Women Sustaining the Earth
November 19, 2009
Dr. Shirley Freeman & Erika
Women Sustaining the Earth
The Ragbirds
Our friend Erika Biddle is a shining example of what makes Key West such a wonderful community. Thinking of a way to bring money and attention to the Key West Community Gardens, Erika followed the example she saw in the British film "Calendar Girls". In the film, a group of middle-aged women decide to pose nude to raise funds for a local hospital, and Erika reasoned that many of her friends could be convinced, perhaps after a few glasses of wine to doff their clothing for a cause.
Erika
Rosi & Sheel
The result is the newly released Women Sustaining the Earth which features Erika and fourteen of her (and our) friends who have tastefully posed in the buff. To celebrate the release of the calendar, former Monroe County Commissioner and calendar model, Shirley Freeman hosted a wonderful party at her home.
Capt. Victoria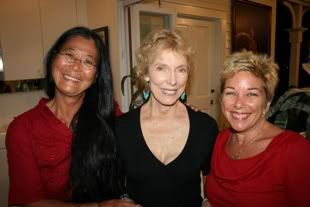 Coco, Shirley & Carol
Judging by the huge crowd who gathered at the party, the calendar is a big success. The party turned out as spectacularly as the calendar itself. Locals turned out in droves to support the cause and to get a peek at local calendar girls including Erika & Shirley as well as, Roberta DePiero, Kate Miano, Lucy Carlton, Rosi Ware, Alicia Metzler, Angela Byarlay, Charlie Wilson, Coco Ono, Zaira Sepulveda, Carolann Sharkey, Capt. Victoria Impallomeni, Amy Culver and Katharina Arnhold. All the photos were done by local photographers Lynne Bentley-Kemp, Carol Tedesco, Richard Watherwax and Sheel.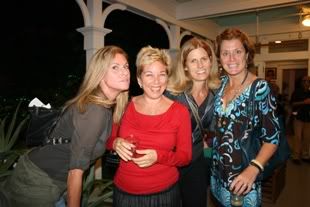 Kim, Carol, Margit & Kathy
The money raised will go to the wonderful community garden and I have a feeling that there will be no shortage of women volunteering to participate next year. Congrats to Erika and thanks to all who participated.
Kathy headed off this week to attend an educational conference in Washington DC and being home alone, I decided to spend a night out on the town enjoying some music. I started at the packed Hog's Breath Saloon where the Massacoustics were beginning their week –long series of gigs. It was a packed house and a lot of fun, but I soon headed over to the Pier at the Ocean Key House to see the latest band in the Sunset Pier concert series, The Ragbirds from Ann Arbor, Michigan.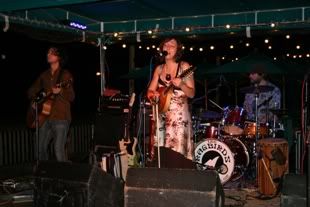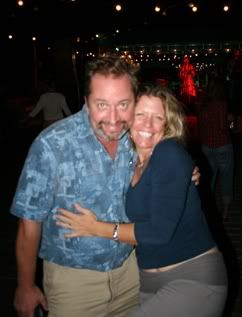 Rob & Carla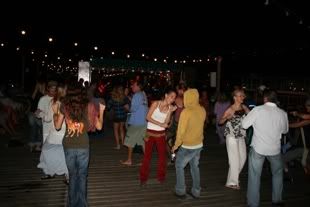 It was an amazingly good performance and I am so glad that I made time to check them out. They play a mix of folk-rock with some jam band thrown in for good measure. They had a decent crowd considering this is their first visit to Key West. They were really well-received as well and the crowd was dancing on the pier. Another cool thing is that they travel to all the gigs in a van powered by vegetable oil. It was a great night with a great band- one that is well worth checking out. I have posted a handy link below.
The Ragbirds
The Ragbirds Website