Miami Book Fair
November 15, 2007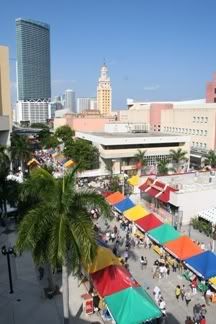 Jeffrey Toobin
Miami Book Fair
The Miami Book Fair celebrated its 24th year this year and having been an attendee at more than half of them, I can say that it has grown in size and scope to the point that it is almost too successful as thousands cram the streets for the street fair as well as the multiple venues on the campus of Miami Dade College for author presentations. One thing that has not changed is the quantity, diversity and quality of authors who attend and give insightful readings and presentations about their latest works.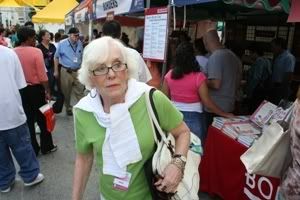 As always, it is difficult to choose between the simultaneous presentations which go on all day on both Saturday & Sunday. In fact, Marta, Kathy & I, having totally different tastes often found ourselves separating to attend various lectures. So for example, while Kathy was watching Edwidge Danticat & Francisco Goldman, Marta was enjoying Tom Hayden & Craig Unger and I was watching Dave Barry & Ridley Pearson.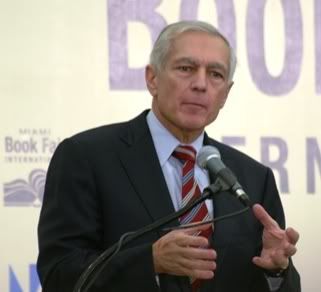 General Wes Clark
In addition there are blocks of booths featuring a huge variety of booksellers, publishers, non-profit groups, antiquarian books, and other interesting vendors. There is also a large Children's area, an International Pavilion and of course a huge International Food Court. The days are long and full, with presentations beginning on the hour at 11 different venues all with-in easy walking distance. Being "Friends of the Bookfair" i.e. donors, we had the good fortune to have passes to a VIP tent, which had food, drinks, AC and closed circuit live broadcasts of the main presentations. It served as a good meeting spot as we each scurried about to see our favorite authors.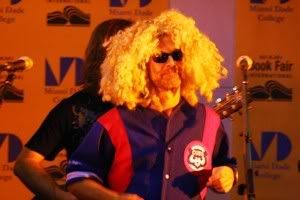 Scott Turow
The weather was about perfect, sunny and pleasant with a nice breeze. The highlights of my weekend included presentations by the likes of General Wesley Clark, Rajiv Chandrasekaran, CNN legal analyst Jeffrey Toobin, Diane Ackerman & David Michaelis. There is also always a surprise author or session where I "discover" some previously unknown to me authors. This year it was a small session featuring authors Joan Quigley on her new book, "The Day the Earth Caved In: An American Mining Tragedy" and Amy Stewart on her look into the flower industry, "Flower Confidential: The Good, The Bad, and The Beautiful."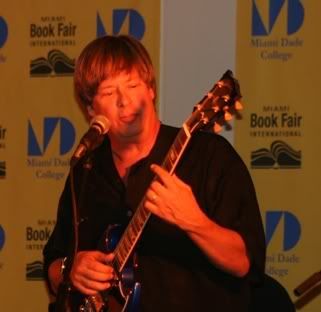 Dave Barry
The Rock Bottom Remainders
We also were treated to a performance by the Rock Bottom Remainders, a band headed up by author Dave Barry and comprised almost exclusively by authors. This year's version included Barry, Ridley Pearson and Scott Turow among others. It makes for a fun, often hysterical performance.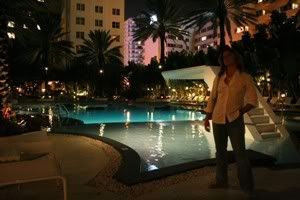 Kathy at The Raleigh Pool
The other cool thing about being a friend, is scoring invites to the fancy author's party. Held this year at the amazing art deco masterpiece hotel, The Raleigh. The legendary hotel and pool, made famous by Esther Williams, was the perfect chic setting for the glamorous affair. Delicious food and free drinks made for a wonderful evening.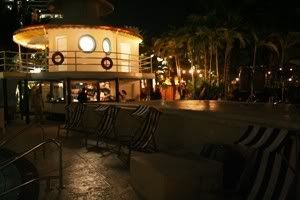 The Raleigh Hotel
The Raleigh Hotel
Miami Book Fair