Kenny Chesney
March 18, 2009
Kenny Chesney
For the second consecutive year, country music superstar Kenny Chesney has chosen to play a special gig at Sloppy Joe's on the Saturday night just prior to St. Patrick's Day. While supposedly "secret", the shows were actually about the worst keep secrets ever- even worse than when Kenny recently purchased a home here- but that's another story.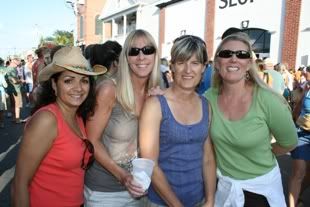 Linda, Shannon, Stephanie & Lisa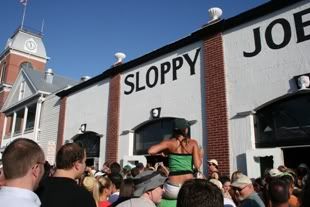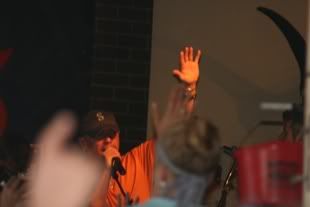 The show may not have been officially announced as part of his tour, but it was no secret, being discussed on the radio and in the local press well in advance. As such it should be no surprise that Saturday morning at 9 AM there were some 250 people lined up in front of Sloppy Joe's waiting to get in who were not deterred by rain showers that swept through the Keys that morning.
Being the same day as the Spring Fair, I was unable to wait (not that I would have), but did manage to head down in the late afternoon to see what was going on. There was a massive crowd outside, the fire Marshall having long closed the main doors. The crowd was so large that the KW Police shut down traffic on both Duval Street and Greene Street.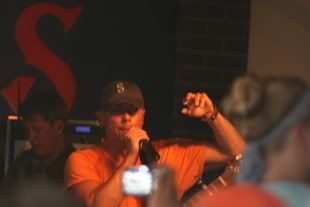 DJs Big D & Bubba
Not only was the crowd massive, they were quite drunk. The St. Patrick's Day Bar Stroll having made its way down Duval during the day combined with the large crowd of college students in town for Spring Break and those who had been waiting all day for the show made for a drunken mix of revelers.
Peyton Manning with Kenny Chesney
When I arrived, Kenny and his band were just about to take the stage and I happened upon the backstage area just in time to watch him emerge from his bus and head inside. He was joined by a number of celebrities who were here to enjoy the show. NASCAR driver Dale Earnhardt Jr. and his car owner Rick Hendrick, Indianapolis Colts QB Peyton Manning, New Orleans Saints Coach Sean Peyton, Coral Reefer Band member Mac McAnally (who co-wrote Kenny's current #1 Country hit "Down the Road") as well as some other Country singers were all here for the show.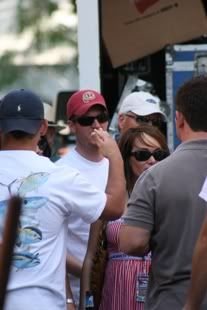 Dale Earnhardt Jr.
Mac McAnally & Kenny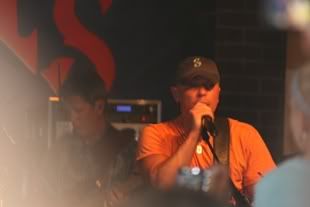 It was a wild scene and while I was not able to get inside, I did manage to work my way up to the side windows which provided an excellent and relatively "drunk free" zone to watch. He played for over three hours to the wildly appreciative crowd. While I have to admit to not being a big fan, it was pretty enjoyable.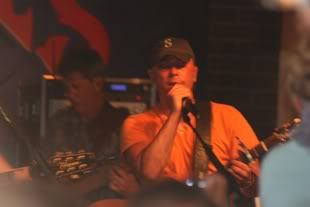 Big D & Bubba- Hanging with Kenny in KW