Indianapolis 500
May 30, 2008
Rick, Becky & Michael
Indianapolis 500
The Indy 500 has been a part of my life since I was 4 years old, actually prior to that since my parents attended the race while my mother was pregnant with me. My first visit to the speedway is captured in a grainy 8 mm home movie from 1968 and since that time I have taken every opportunity possible to get to the track for practice, qualifications and the race. For the past few years I have made dual trips to Indy each May for both qualifying and the race itself.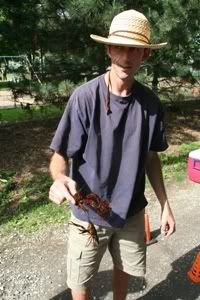 Rick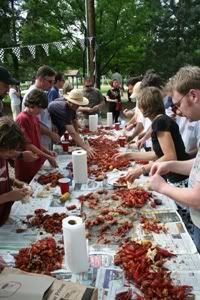 With Rusty
It is not just the race, but the stunning array of activities that are part of the race. Among my favorites is the annual Crawfish boil & Calcutta hosted by Rick & Becky Henss. Each year it offers an opportunity to see many of my Indiana friends all together as the family friendly party draws a large crowd. In fact the party is so enjoyable that the crowd from Brugge cut short a visit to a private party hosted by Jason Priestly with the Barenaked Ladies to come back in time for the Calcutta.
Each year, Rick & Becky import a huge amount of live crawfish from Louisiana and boil them up for the crowd. Brugge & the Broad Ripple Brew Pub provide kegs of beer and the fest is on. It is a great, great time. This year, I teamed with Kevin Mattalucci to snare Marco Andretti & Marty Roth in the Calcutta. They were the first lot auctioned and we snared them for a bargain price compared to the prices for the front row drivers.
Shannon, Ted, Eli & Mary
Calcutta
Will
Race morning itself dawned clear and sunny, a major shift from the rain that plagued the event last year. This year I took my nephew Will Noel to his first Indy 500. My other seats went to my friends John & Dan who met us at the track. We also managed to obtain tickets for a friend from Key West, Bob, who drove over from Illinois and met us outside the gate to get their tickets. Our seats are high up in turn 3, the Northeast Vista and they offer a spectacular view down the length of the back stretch and through turns 3 and 4.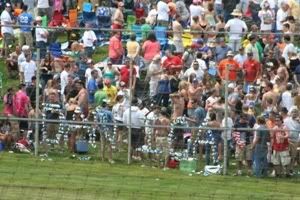 It was the scene of a ton of action, from Buddy Rice spinning out Milka Duno to the crash that took out leader Tony Kanaan and Sarah Fisher as well as many passes and attempted passes throughout the day. The race itself was pretty good, though there was a ton of laps run under yellow due to the many crashes. In the end, Scott Dixon held off Vitor Meira & Marco Andretti to capture his first Indy 500 win. Placing third, Marco came through for me again and my Calcutta luck held true. I can't recall a year that I have not won something.
All in all, it was another fun-filled weekend and another chapter in the storied history of the Indianapolis Motor Speedway. Monday morning, I was back on a plane headed south.