Babies and Birthdays
September 25, 2006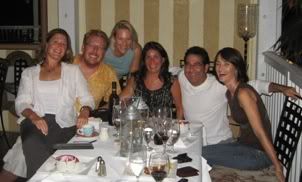 Kathy, Michael, Janine, Birthday Girl Gae, Neal & Bonnie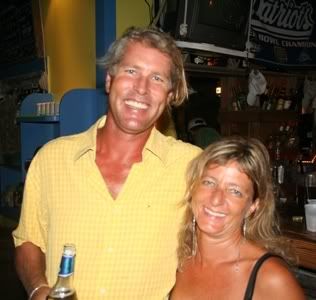 Andy & Suzy Jo Moore
Sometimes you go through phases of life in which the same themes keep popping up over and over. This week's themes are babies and birthdays. It seems everyone we know is either having a birthday or a baby of late. Not that either is a bad thing, in fact each provides plenty of opportunity to celebrate, which is something we are happy to take part in.
We made it home from Austin, exhausted after more flight delays, thanks Delta airlines, and had little time to rest before returning to work. In fact it took the better part of the week to actually catch up on our sleep and get back into the groove of our normal lives.
By the time the weekend rolled around, we were ready to hit the party circuit again..or at least to celebrate a couple of birthdays. First up, Friday evening with our dear friend Gae whose birthday was feted with a wonderful meal at the Hot Tin Roof Restaurant on the water at the foot of Duval Street. We joined Gae, Janine & Neal & Bonnie for a wonderful evening with some delicious food. We just about had the place to ourselves due to the slow September tourist season which made for a relaxing and enjoyable meal.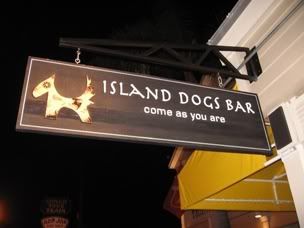 After dinner, Kathy & I decided to check out one of the myriad of recent additions to Key West night life by visiting Island Dogs Bar on Front street. As always in Key West, there is an ever changing array of bars, restaurants and stores that come and go with the wind seemingly. This one is actually a nice new place, bright and inviting with a somewhat limited selection of libations. I think it may stay around awhile.
Jacqueline, Eric, Kathy & Rick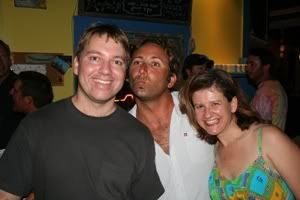 Andy, Jeremy & Jaime
Saturday night it was another birthday celebration, this time a big 40th birthday bash for our friend Suzy Jo. Her party was held at the Duval Beach Club, which was the location of our wedding. It proved once again that it is an awesome place for a party, with its excellent beach front and the open atmosphere of the bar as well as the ability to host 200 or more revelers with no problem. It was a great party and a perfect way to catch up with many of our Key West friends who we had not seen for months. While at the party, we could not help but notice how many of our friends are either pregnant or have had babies in the last year or so. There is a baby boom going on and it's not just here as we have friends around the country having babies left and right. I tried to get a good shot of David & Fiona with their daughter Tallulah at the party, but due to a camera malfunction, I had to steal a photo from his website instead.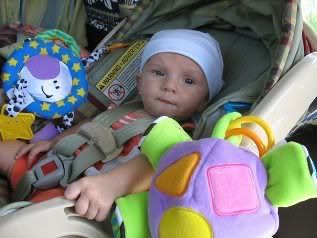 Tallulah Richard
So to all our friends with new babies or babies on the way we say congrats! Congrats as well to those celebrating birthdays- throw a party and we'll show up- promise.