Tourist Season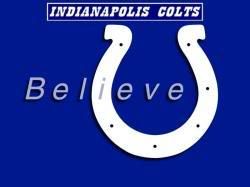 February 1, 2007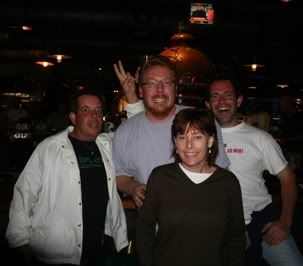 Dave, Michael, Sarah & Malcolm
Sarah & Kathy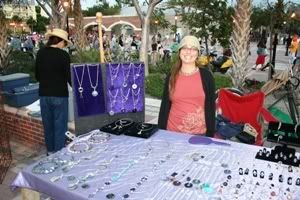 Beth
Tourist Season
There was once a t-shirt I saw that read, "If they call it Season, Does that mean we can shoot them?" The shirt hits home with locals in Key West this time of year as the island becomes overrun with pale Northern visitors seeking a respite from the chilly climes of their homes. This year there will be an abundance of visitors from the cities of Chicago and Indianapolis as they head to South Florida to watch the big Super Bowl game this weekend. Not that I have any issues with that, I'm thrilled that after over 20 seasons in Indianapolis, the Colts have finally made it to the Super Bowl!!!
Russell & The Mudkids filming video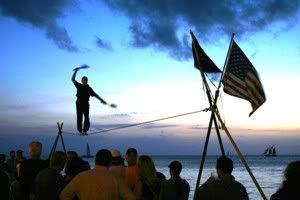 Sunset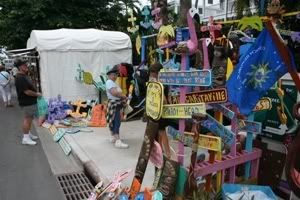 Craft Show
My hometown team has been close many times, but Peyton Manning has finally broken through and led the team to the pinnacle of sports glory. Understandably all my Hoosier friends are beyond excited. My friend Russell and his band, The Mudkids have even released a song that has become the unofficial anthem of the team. You can watch a video using the YouTube link below. I have spent the last week, so far unsuccessfully, attempting to obtain a ticket to the big game. For some reason Kathy thinks spending 4 grand or more for a ticket to a football game might be excessive.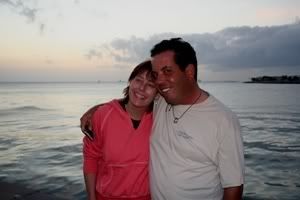 Sarah & Dave
Sarah
The tourist season even brought us houseguests as my friends from CKKL were here over the past weekend. DreadedSarah her husband Dave and their friend from England, Malcolm were all here to help celebrate Dave's 40th birthday. We spent a lot of time bar hopping as well as visiting the Customs House museum and attending the annual Key West Craft Fair along Whitehead Street. Of course, we hit the sunset celebration, like good tourists and even found time to eat every now and again.
Sarah & Dave
The busy season continued Monday night at the Tropic Cinema where writer and nutritionist Jean Carper presented as part of the Friends of the Library speaker series held each Monday evening. Last week, it was the wonderful author Lee Smith and this week Carper gave a great presentation on her latest book. It's wonderful to be a part of a town that has such interesting and diverse opportunities. There is always something fun to do. This weekend is the big game, I'm hopeful that somehow the Colts manage to finish the job, but excited that they are playing nonetheless. It should be exciting.
Kim & David
Jean Carper
http://www.youtube.com/watch?v=jswJrNNWJfY