Taste of Key West
May 2, 2007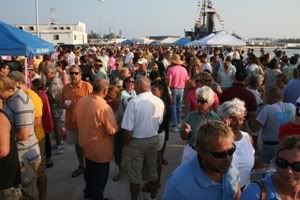 Crowd
Popa Chubby
A Taste of Key West
Each year, Key West's finest restaurants come together to offer a selection of culinary delights to benefit AIDS Help Inc. Held at the Truman Annex waterfront, the event draws over 65 of the best Key West eateries as well as wines from over 75 wineries and a similar number of various beers as well. It makes for a wonderful and extremely popular event as each restaurant puts its best foot forward in an effort to showcase their delicious food. The participating restaurants donate all the proceeds to AIDS Help which raises close to $100,000 during the three hour event. All the money is used to provide health care, food, counseling, and referral and support services for HIV infected residents of Monroe County.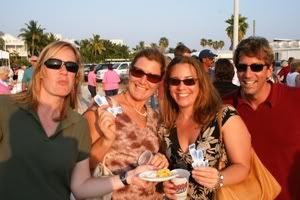 Kate, Kathy, Nadene & Rob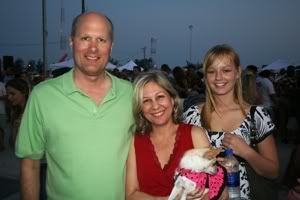 There is nothing like a good party for a good cause to turn people in Key West out. As always, the crowd was huge and we saw all sorts of friends and acquaintances, many of whom we see only at events such as this. The waterfront location is perfect, you have plenty of room to move and the perfect sunset view adds a magical element to the festivities.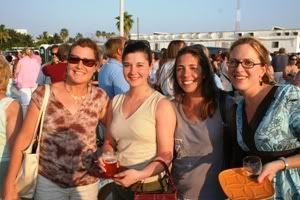 Kathy, Patty, Alicia & Hannah
We ended up staying till they started packing up the place before heading over to the Green Parrot to see blues/rock virtuoso Popa Chubby perform. If you have never seen or heard of Popa Chubby, he is well worth checking out. He is a masterful guitarist and his band puts on an amazingly good, high energy show. Emerging from the 70s New York punk scene, Popa once was a member of the legendary band Richard Hell & the Voidoids, he has progressed into one of the most cutting edge blues musicians alive. He played a bunch of songs from his latest 3 CD release of Jimi Hendrix covers, "Electric Chubbyland" and it was really impressive. Many bands try to cover Hendrix with varying results, but this guy really pulled it off.
Popa Chubby Band
Next on our agenda is an entirely different type of musical experience as The Key West Songwriter's Fest kicks off this evening. A gathering of over 80 of the finest working songwriters, the fest is organized by our good friend Nadene and promises to be another stellar success.
http://www.keywestsongwritersfestival.com/
http://www.aidshelp.cc/
http://www.popachubby.com/
http://www.greenparrot.com/