Tis the Season…
December 19, 2006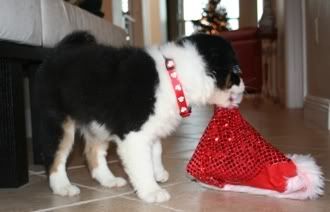 The Holiday season has kicked into high gear as Christmas fast approaches. Things have been so busy and crazy that I have taken the longest break between blog entries to date. We have been trying to take advantage of the many, many holiday parties and activities that Key West has to offer. Key West goes all out and there is no lack of options to keep us busy.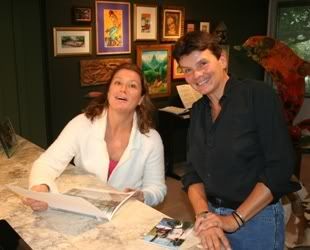 Kathy & Darlene
The past two weeks have been filled with fun and work as we try to get our house cleaned and ready for holiday visitors and our Christmas Eve open house. We have also been busy with shopping, wrapping, packing and shipping. In between, I got saddled with jury duty, my laptop crashed and we got some upsetting news regarding a health issue with a family member. So it's been a mixed bag as we get ready for the holidays.
Allison at the Big Pine Holiday Fest
There have been a lot of great times of late, whether it's celebrating the birthday of our dear friend Erica, attending the Florida Keys Council of the Arts Holiday Party or the release party for the latest edition of the fantastic literary and art journal, "The Secret of Salt". The journal was released to much fanfare at a wonderful party hosted by publisher Kim Narenkivicius. It features local authors, photographers and artists and is a wonderful example of what makes Key West such a special place.
Birthday Girl Erica & Carol
Another Key West tradition, at least for Kathy and her friends is their annual Cookie Party during which they gather and bake holiday cookies and enjoy some holiday spirits. It's a "girl's only" party but I got to enjoy the results as we had a couple of boxes of various delicious cookies to enjoy. This year's party was at the home of our friend Bonnie and from what I can tell; a good time was enjoyed by all.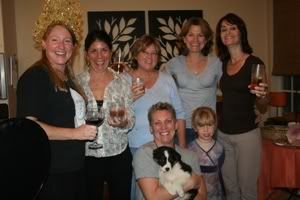 Cookie Party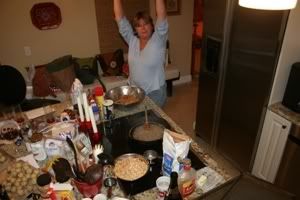 We missed the lighted boat parade due to the heavy rain that plagued the Keys last weekend, but we were able to join the Key West Pre-School Co-op on their annual ride on the Conch Tour Train to view the many holiday light displays around town. People seem to have gone above and beyond this year, no doubt happy to be back in the Christmas spirit after a subdued holiday post-hurricane Wilma last year.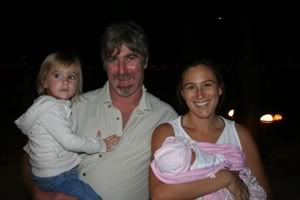 The Joneses
Now we are in our final push towards the New Year. Tomorrow is Kathy's birthday! I want to take this opportunity to wish her a wonderful and happy birthday. December is a busy birthday month with birthdays including my nephews, Jerome & Will, my sister Michele and my brother-in-law Brian's 50th!! Happy Birthday to all.
http://www.thesecretofsalt.com/