Celebration
October 23, 2012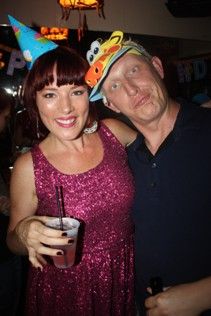 Erin & Chris
Lisa & Elena
Celebration
The end of October is like nothing else in Key West. The biggest series of parties and celebrations and the real start of the tourist season make the island one of the most fun places in the world during this time and this year is no different with the exception that the party got going just a bit earlier this year as there were a couple of really fun and awesome events that happened even before the traditional Goombay weekend that kicks off the party in Key West.
Howard & Aaron
This year there were a few celebrations the week prior that helped get me in the mood for Fantasy Fest just a little bit early. Kathy was gone out of town for a few days, visiting a friend in New Jersey, so I was solo for these parties, but thankfully each was packed with friends and I had a spectacular time.
Jay, Lynne, Jed & Brewster
The first two involved The Studios of Key West, which hosted a celebration as part of a Walk on White on Thursday night to celebrate the release of their 2012-2013 catalog. The party was great and the catalog, which was largely produced by my friend Elena, is truly incredible. I am not sure which is more impressive, the staggering number of events and activities that The Studios of Key West packs in to a season, or the amazing catalog that is so much more than a listing of those events. It is a piece of art all its own and if you have the opportunity, you should stop by the Studios and pick one up.
Bria
The next night, The Studios were the beneficiary of the weekly non-profit happy hour at the Bottlecap Lounge and once again, the familiar Studios crowd showed up to drink and help support the Studios which took advantage of the fun happy hour and made a few bucks. Artists painted paintings on the spot which were auctioned off and a variety of other fundraising efforts were also under way.
Nick, Michael & Chris
The bestest party of the week was easily the birthday celebration of our friend Erin. Organized by her wonderful boyfriend Chris and held at Bobby's Monkey Bar, which I have never seen better decorated, the party was a massive success and hugely popular- mostly because to know Erin is to love her and obviously a large number of people think she is the cat's meow.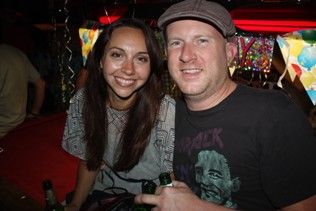 Leanne & Tony
Erika & Chad
She is one of the coolest, nicest, most fun and funniest people on the island. A super talented member of Key West Burlesque (Cheeky Derriere), as well as a fantastic and funny actress and all around great person, Erin is one of the people who make living on this island so great.
Michael & Liz
Elaney & Jevne
The party was jam packed with friends and well-wishers and if there is one thing Chris knows how to do, it is throw a party. He has hosted some of the best parties I have ever been to on this island including the amazing Fantasy Fest Tutu parties and a host of parties at his bar, The Porch. This one was no exception and everyone (with maybe one exception not worth mentioning) had a fantastic time. I was so happy to be included and had an amazing time myself.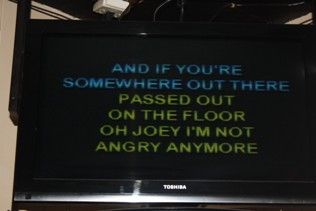 Wendy & Scott
Wendy, Erin & Otten
Listening to my friends singing karaoke of my favorite Concrete Blonde song "Joey" was a highlight as was a stirring duet by my friends Dan & Greg. It was a great time and totally put me in to the Fantasy Fest spirit.