Hot Springs, AK
August 4, 2006
When we drove in to Hot Springs, we took a chance on the most luxurious old hotel in town and were lucky to find their rates were not too prohibitive; in fact it was such a deal we opted for two nights in Hot Springs. The Arlington Hotel opened originally in 1875 and it has been the standard of luxury through 3 incarnations, the current building opening in 1923. The largest hotel in Arkansas, the resort has hosted numerous luminaries, from Theodore Roosevelt, Babe Ruth, Jack Dempsey, Will Rogers and many more. In the 1930s, the hotel served as a base for gangsters such as Lucky Luciano & Al Capone.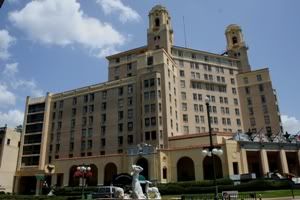 The Arlington Hotel
What lured all these people and more to Hot Springs are the 47 natural springs that dot the mountainside along Central Avenue and the luxurious bath houses that opened to take advantage of the healing waters. Called the American Spa, Hot Springs still draws those interested in "taking the waters". Today, bath house row is part of the National Park system and all the traditional bath houses are being restored as part of the park. We started our visit at the National Park Visitor center located in the Fordyce Bath House. Fully restored and opened as a museum, the Fordyce provided a wonderful look into the history of the golden age of bathing.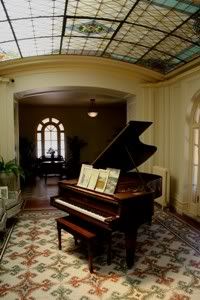 The Fordyce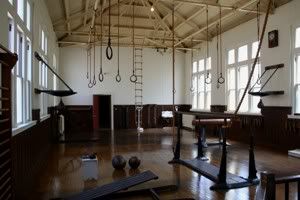 Fordyce Gym
Across Central Avenue from the bath houses is one of the largest cold springs in the US and the home to Mountain Valley Spring Water. We were on our way in to tour their headquarters when a car pulled up and we heard a familiar voice. A friend from Key West, Henry Woods, was visiting his parents in Hot Springs and saw us on the street. Talk about a small world. It was nice to see a familiar face.
Henry & Michael
We spent a lot of time hanging out at the hotel pool and hot-tub which were each filled with natural spring water. The pool is built into the side of the mountain at the 7th floor and our room was nicely located just down from the pool deck. It was nice to spend the afternoon just relaxing. In the evening we went to dinner at a great little restaurant called the Brick House Grill before hiking up the side of the mountain to ride to the top of the 600 ft. tall Mountain Tower, which offers a commanding view of the area around Hot Springs.
Of course no visit would be complete without visiting the only still operating bath house, the Buckstaff Baths. Kathy & I both choose the traditional package which included the bath package and a massage. It was easy to see why so many people still flock to Hot Springs. It was a very relaxing experience.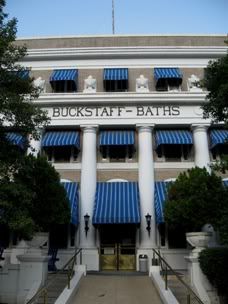 Buckstaff Bath House Website