Lyons
August 19, 2006
Kerry & Kathy
Amos Lee
The Rocky Mountain Folks Fest is celebrating its 16th year as one of the premier songwriter's festivals in America. Held each year at a beautiful site in a beautiful mountain valley along the St. Vrain River in Lyons, about 20 miles from where our mountain cabin, the Folks Fest offers 3 days of some of the most talented and interesting performers from around the globe. This is our second trip to this small, low key yet wonderful music festival.
We arrived early and set up, we had two large pop-up sun shades for our group which included Kathy & me, Marika & Brian, our friends Kerry & Bruce Darby, Kerry's parents Mike & Donna Egan and her nephew Nathan. The event is very family friendly with many children who enjoying playing in the river as the music plays. It is also not that crowded, allowing easy access to the front for any performer you choose to get close to. There are tons of cool food vendors as well as the local New Belgium Brewery serving the best microbrews in Colorado. The other cool thing is the vibe of the place, so laid back that the performers often come out and hang out in the crowd or join each other on stage for interesting musical collaborations.
There are about 12 hours of music each day and yesterday we saw Billy Jonas, Pat Flynn, Sonya Kitchell, Amos Lee, Mindy Smith and Jeff Tweedy from Wilco. Unlike many music fests, the artists are given time to play full sets which is cool, especially if they are someone that you like, if not you can go hang in the river or check out the vendors or just relax. Many of the performers are people you may not have heard much about, but chances are you soon will. They seem to have an uncanny knack for selecting people just on the verge of hitting it big. A few of the stand-outs from yesterday include Sonya Kitchell, Amos Lee, Mindy Smith & Jeff Tweedy.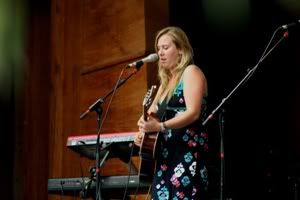 Sonya Kitchell
Sonya Kitchell is only 17 years old, but she has been compared favorably to Rickie Lee Jones and Norah Jones. She has already opened for the likes of Herbie Hancock & Bob Dylan and after seeing her electrifying set it's easy to understand why.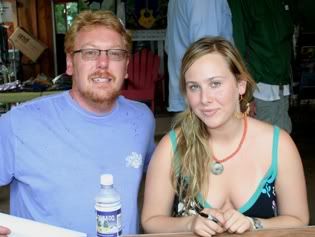 Michael & Sonya Kitchell
The music of Amos Lee is a mix of classic Philly soul music and rough jazz. He was probably the most popular of the day's performers. He played a long set and most of the songs from his two remarkable CDs. If you have not heard this guy, his music is awesome and I have a feeling he is going to be breaking through to mainstream success very soon.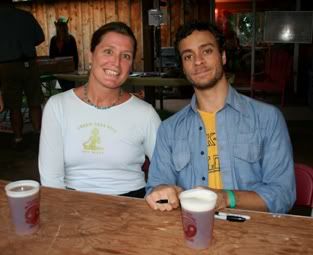 Kathy & Amos Lee
Mindy Smith is probably best known for her amazing cover of Dolly Parton's song, "Jolene" but her talent and songwriting ability were evident in a quiet, inspirational performance highlighting her beautiful voice and poignant lyrics.
Mindy Smith
The headliner on Friday was Jeff Tweedy of the band Wilco. He played a set accompanied only by a harmonica and acoustic guitar that was a powerful conclusion to the first day of music. Considered by many as one of the founders of the alt-country genre, Tweedy is a multiple Grammy winner who was chosen by Woody Guthrie's daughter to record unused songs from Woody's archive. His set was an awesome way to finish up a great day of music.
Jeff Tweedy
Amos Lee Website
Sonya Kitchell Website
Mindy Smith Website
Jeff Tweedy & Wilco Website