Qualifications
May 15, 2008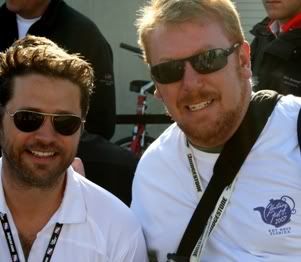 with Jason Priestly
Qualifications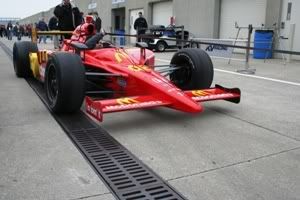 Pole Day at the Indianapolis Motor Speedway is to me, in many ways more interesting and exciting than the actual race. The weather actually cooperated as it was sunny and warm with about perfect conditions. The good weather and increased activity with all the new drivers brought large crowds out to watch the excitement.
The morning practice is always one of the best of the month as drivers go all out in their last opportunity to get ready before qualifications begin. The relatively new format allows for only the top 11 speeds to actually qualify with each car getting 3 chances per day. It makes for a battle for both the top spots as well as for those at the bottom end of the 11, because there is a huge advantage to qualifying on the first day, especially with the forecast for a rain-out on day 2.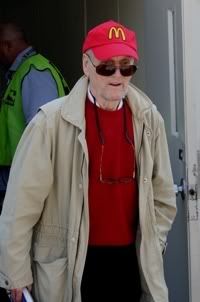 Paul Newman
At various points during the day 5 different drivers held the pole, but in the late afternoon Scott Dixon snared the top spot with a speed of 226.366 and no one was able to challenge him. Teammate Dan Wheldon was second and Ryan Briscoe claimed the outside of the front row. Danica Patrick will start 5th and sadly, Marco Andretti had to settle for 7th after posting the quickest laps in practice. I'm sure the team was expecting better.
Ryan Briscoe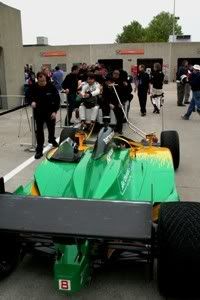 It was a great day, one that almost recaptured the spirit that has been missing since 1995. It was great to see Paul Newman back at the speedway as well, neither of his cars were able to qualify on pole day, but both Justin Wilson & Graham Rahal were close and my guess is that they will be more competitive come race day. It will be a minor miracle if a driver not on one of the big 3 teams of Ganassi, Penske and Andretti/Green win the thing. They claimed 8 of the top 11 spots and look to be pretty dominant once again.
EJ Viso
Brugge
Certainly the Brugge sponsored team of actor Jason Priestly and driver Max Papis have their work cut out for them. The competition just to make the race is pretty intense and next weekend there will be some teams left out. Speaking of Brugge, in addition toi attending qualifying, I had a chance to dine at the restaurant with my sister Michele over the weekend. It was excellent as always.
Sunday, as predicted, rain washed out the entire day at the track, but it enabled me to hang out with friends, eat at the Northside News Café, and have an excellent Mother's Day meal with my friends Tim & Eric Micheli, whose mother was visiting from Florida. Sunday night before returning to Key West, I met John Cornwell at Pat Flynn's bar to reminisce about Lon Paul. It was a sad, yet cathartic experience and a fitting way to cap a fun, yet sad weekend.