Will Kimbrough
November 5, 2007
Will & the Parrotheads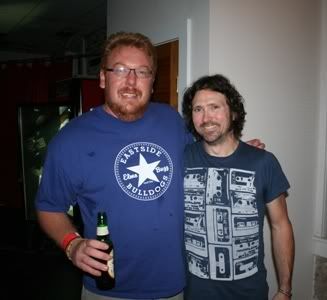 Michael & Will
The annual invasion of the island by Jimmy Buffet loving Parrotheads happened again this week when the Meeting of the Minds convention was held at the Casa Marina resort and at various locales around Key West. About 3,500 attendees descend on the island each year for a full slate of music, parties, fundraising and enjoyment and once again this year, Kathy & I (though not technically Parrotheads) joined in the festivities.
This year as an added bonus, Charlie over at the Hogs Breath Saloon booked one of our favorite singer/songwriters, Will Kimbrough, to play two nights at the upstairs Writers Room. Will wrote the song, "Piece of Work" that Jimmy Buffett covered on his recent release "License to Chill".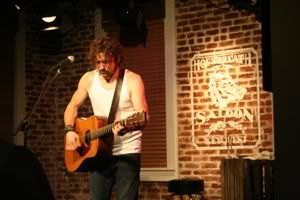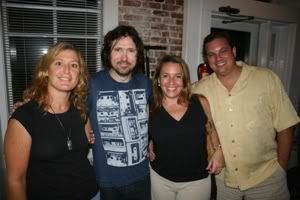 Kathy,Will, Nadene & Trevor
We had seen Will previously in Nashville during our road trip last summer and of course I'd seen him play numerous times with Todd Snider as a member of Todd'd band, The Nervous Wrecks. This time it was just will alone with an acoustic guitar and a collection of harmonicas. I must say it was an amazing performance, or should I say pair of performances as I opted to see both shows after the first night blew me away.
Kathy, Nadene & Trevor
Will sounded amazing and the small intimate room and small but enthusiastic crowd made for a near perfect musical experience. Playing selections from his recent releases "EP" and "Americanitis" as well as dipping far back into his solo catalog, Will was impressive. Relaxed and talkative, especially during the first show, it was more like a private performance in a living room than a concert going experience. If you are not familiar with Will's work, please do yourself a favor and check him out. He is a truly gifted songwriter and musician.
Will Kimbrough- "Act Like Nothing's Wrong"
The Parrothead convention itself, took somewhat of a backseat for us this year. We attended a couple of the shows they had at the newly renovated Casa Marina. The renovations at the Casa have removed just about all of the historical ambiance and flavor of the place and now a sterile atmosphere pervades the place. It made it a lot less enjoyable. The music was great as always. We particularly enjoyed Scott Kirby and local favorites Howard Livingston and the Milemarker 24 band. It was also good to spend time with the folks we know from the Todd Snider listserve who were here for the event. Our friends Paul & Beth Pearon were down from Ohio once again and we were able to spend a little quality time with them this year. I even joined them Sunday evening for a trip to Parrotdise restaurant at MM 28 to celebrate Beth's birthday.
Scott Kirby at the Casa
Howard Livingston at the Conch Farm
Beth & Paul
Jimmy Buffet didn't show this year as he had in the past, but the Parrotheads seemed to have a good time once again regardless. The people who organize the convention should be congratulated for the well run event and all the quality music they bring down. We look forward to seeing them next year. If they are smart, they will bring Will Kimbrough back as an official musical act as well.
Will Kimbrough Website