Catching Up
May 14, 2010
Tara & Johnny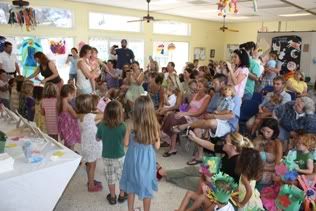 Mother's Day
Catching Up
The hectic pace of the last few weeks has allowed a number of events that we have been involved with to slip past without the notice they might have otherwise deserved, so I thought that I would post a sort of catch all to recap some of the things that we have done lately not involving the Songwriters' Festival or the Dragon Boat races.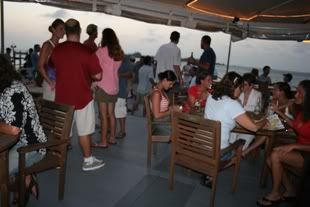 During the songwriter festival, we managed to make it to the 40th birthday of our friend Johnny. He celebrated the milestone along with his wife Tara and a huge gathering of friends at a sunset party at the Tiki Bar at the Galleon resort. It was a wonderful evening and our only regret is that we couldn't stay longer. The beautiful sunset and sharing beers and food with friends made for an ideal celebration. The Galleon Tiki bar is a great location for a gathering, one that I rarely consider but offers a great waterfront, casual setting.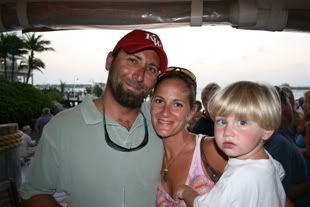 I also managed to sneak in one of the final performances of a wonderful play at the Red Barn Theatre, "Short Attention Span Theatre". The play, a series of 10 minute vignettes was charming, funny and enjoyable. I attended specifically to see a friend of mine, Haripriya Fka-Shakti who was a member of the talented cast. I have been encouraging her to follow her desire to pursue acting and after seeing her wonderful performance, I can see that my faith was well-founded. The entire show was terrific.
Robin Smith-Martin
I try not to get too political on this blog, I figure that there are plenty of other forums for people to express their political beliefs, however one of our friends, Robin Smith-Martin is running for the Monroe County School Board and I attended his campaign kick-off party last week. The problems in the school system are well documented and it is nice to see a local product of that system seek to address the issues. Hopefully, whichever candidate you support, you will get out and vote this fall.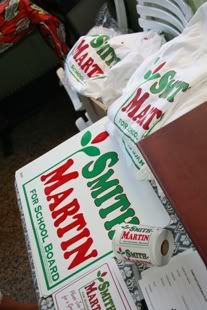 Mike Mongo
Mother's Day is an especially big day at the Key West Preschool Co-op and for the first time, I attended the Mother's Day program that the various classes put on for the parents. It was great, it is so impressive to see how the children have developed over the year and it was really inspiring to see how the kids interacted with their mothers. I know my mother is a regular reader of this blog and I want to take the opportunity to wish her again, Happy Mother's Day. Love you Marta!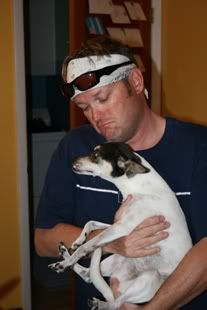 Graf
Not everyone celebrates Mother's Day the same way and a couple of our friends, Graf & Eileen hosted a Mother's Day dinner party for their childless friends, so of course Kathy & I joined a great group of our friends to celebrate the fact that we had no kids and did not want to be left out of the mother's day celebration. We drank and ate and had a wonderful evening.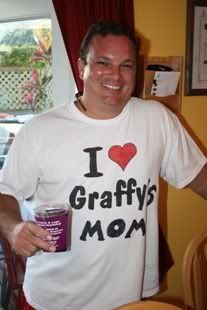 Trevor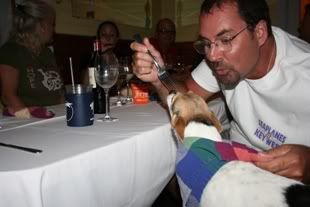 Jim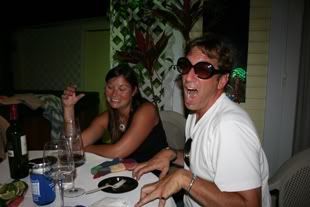 Melissa & Rob
One more adventure that I wanted to mention is our stop at the No Name Pub in Big Pine Key with our friends Nadene & Trevor on the way home from the Dragon Boat Festival in Marathon. The No Name Pub is famous for being isolated, hard to find and for their delicious pizza. We had not been in far too long and they have really fixed up the place. Thankfully the food is still good and we had a great time. The No Name Pub is worth finding.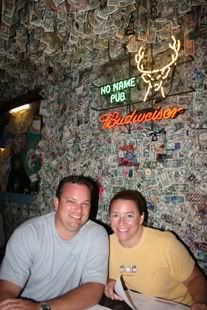 Nadene & Trevor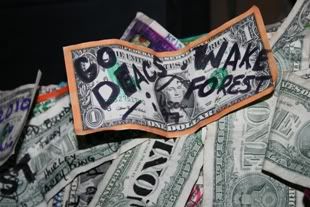 No Name Pub