Independence Day
July 7, 2010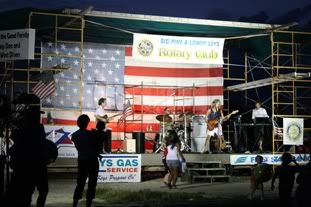 Independence Day
To cap off July 4th, already a long day for us, Kathy & I decided to travel up the Keys to attend the July 4th celebration at the Sugarloaf Airport hosted by the Big Pine & Lower Keys Rotary Club. The party in Key West at the Casa Marina was a viable option as well, but neither of us had ever been to the Sugarloaf party and our friends Brian & Rob and their band The Prime Movers were playing there as the featured entertainment, so we choose to head up the Keys a few miles.
Kathy
Brian & Rob
The Sugarloaf Airport is a tiny, single runway affair nestled back off of US 1 behind the Sugarloaf Lodge and next to the famous Bat Tower, It is isolated but has all the necessary space to host a party for a few thousand people including ample parking and space for the various food vendors and stage for the band to perform.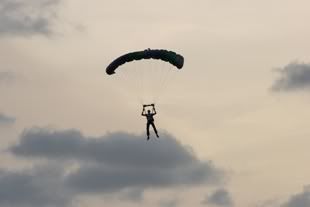 We arrived early in the evening, while it was still light out and there were not yet too many people and staked out a good spot to see both the stage and the fireworks display before grabbing some food and settling in to watch the Prime Movers. The event soon packed up and we were joined by our friends Reggie & Terry for the remainder of the evening.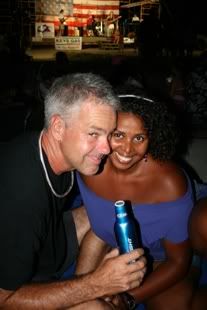 Terry & Reggie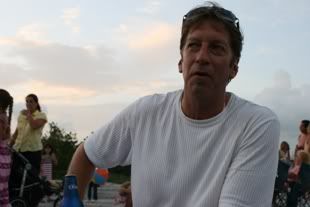 Rob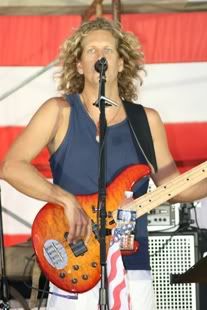 Brian
It was sort of strange being so close to home, yet knowing so few people, but it was nice. The event had the sort of small town Americana feel that I am certain was happening in countless towns and communities across the country on July 4th. Families packed the place by the time the fireworks got underway and the oohs and ahhs could be heard for miles out over the water.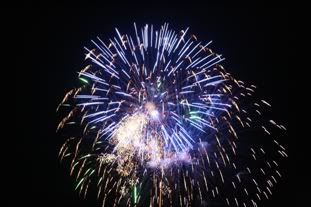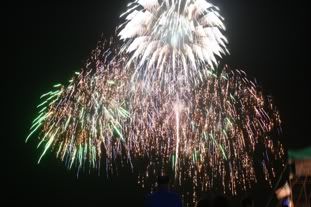 It was a perfect night for fireworks and the display presented by the Rotary Club was really first rate. It was way better than I ever expected and featured a large number of huge, innovative fireworks and a great finale. It was just about a perfect Fourth of July so much so that we didn't even mind getting caught in the traffic jam as people filed out. Happy Birthday America!!