Visiting Hours
February 6, 2013
Kristen-Paige & Judy Blume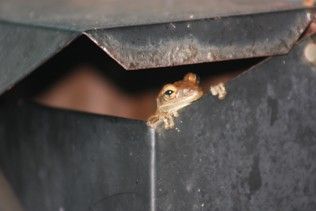 Visiting Hours
The late winter season always brings a plethora of visitors from the Northern climes to Key West and this year, with the severe winter that much of the nation has experienced a big factor, it seems busier than ever throughout the island. The good news is that many of the visitors this year have been friends and acquaintances that have made it a much more enjoyable experience than simply having to deal with the crowds and traffic that come with the tourist boom.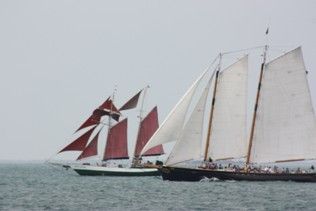 Dan & Andy
This month we have been visited by family, friends and even some acquaintances who have made the trek to our island home for some sun, relaxation or just to hang out.
It has been busy, starting with a quick, one day visit from Kathy's Aunt Judy & Uncle Phil, who made a quick stop in Key West aboard a cruise ship. They were here for less than a day, but Kathy & I were able to meet them and enjoy a nice lunch together at Jack Flat's restaurant before they had to re-board the ship and head off to points South.
Kathy, Judy & Phil
Next on the visitor parade were a couple of acquaintances who make up two-thirds of the band Rev. Peyton and his Big Damn Band.
The Reverend himself and his wife Breezy spent a couple of weeks in Key West on a vacation break from their intensive touring schedule. I know them only in passing, being they are from Indiana and we have a number of mutual friends, but they took an evening out of their vacation to hang out at the Green Parrot.
Breezy & Reverend Peyton
Kathy & I have seen them perform a couple of times, once in Austin at the ACL festival and once in Indianapolis and they are fantastic live. Rev. Peyton is one of the greatest living slide guitar players but it was cool just to hang out with them and talk about home and mutual friends. The funniest part of the evening had to be when some guy was overheard as he walked by saying, "That guy looks just like Reverend Peyton."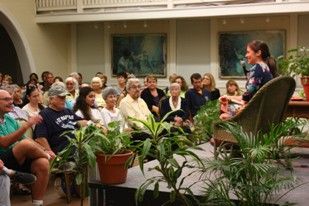 KP at TSKW
Next on the caravan of visitors was our friend Kristen-Paige Madonia who I had arranged as organizer of the Friends of the Library lecture series to come down and speak as part of the series. We had met Kristen when she was here as an award winning writer as part of the Key West Literary Seminar and again while she was here as a writer in residence at the Studios of Key West. I was determined to get her down to speak after her first novel, "Fingerprints of You" was released last year.
Kristen-Paige
Kristen-Paige was here for a week, staying part of the week with our friends Arlo & Ashley and part of the week at fellow author Judy Blume's house. Her presentation at The Studios of Key West as part of the lecture series was a huge success. A packed house that included a large contingent of young readers from Key West High and FKCC was treated to a wonderful reading and discussion.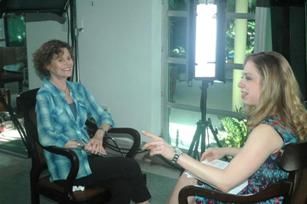 Judy Blume & Chelsea Clinton
After the reading Kathy & I joined Arlo & Ashley, Kristen-Paige and Judy Blume and her husband George for dinner at Salute. It was a great night. Interestingly, Judy was hosting another well-known visitor of her own the next day as former First Daughter Chelsea Clinton came to Key West to interview Judy for the news program "Rock Center with Brian Williams".
Judy & Chelsea bike through Key West
Our final visitors were our friends and former Key West residents Dan & Deanna who were in town visiting from their home in Annapolis. They had a wonderful afternoon cook-out at Ft. Zachary Taylor State Park where we were able to hang out with them and other friends and watch some other friends compete in the Wreckers Race, sailboat race. It was a beautiful beach day and great to catch up with friends.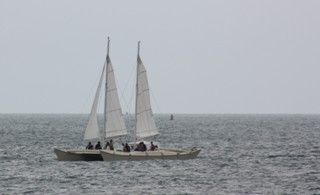 Deanna & Dan
There were a couple of other events of note recently, the annual Community Foundation Un-Sung Hero luncheon at the Casa Marina where RPM Nautical honored the absent volunteer of the year Lee Pape and the Key West Literary Seminar honored Fran Ford as their volunteer of the year. Fran spent her 90
th
birthday volunteering for the seminar, something she has done every year of the 31 years the seminar has been held.
Jeff accepts for Lee
Fran
Mary, Fran & Lynn