Holiday Season
Holiday Season
Queen Mother Ruby & Veronica
December 11, 2007
The return to Key West after being away for Thanksgiving found us in the maelstrom of events and activities that will continue unabated through the Christmas season and into the New Year. It seems almost every night there are multiple options of events, fundraisers or parties to attend and we seem to have an extremely full calendar.
Ali, Erin, Sean & Kathy
Whether attending the wonderful Key West version of The Nutcracker presented by Joyce Stahl, attending the Holiday Parade or attending one of numerous holiday parties and open houses, Kathy & I have been exceedingly busy the past couple of weeks. In addition, we decorated our home and Christmas tree to a greater extent than ever before.
Marna, Kathy, Carla, Marlo & Jodie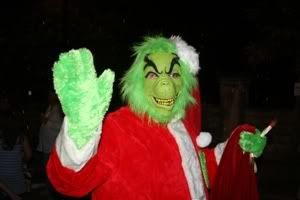 Grinchy Jim
The Holiday season in Key West kicks off with the annual Christmas parade. Held the first Saturday in December, the huge parade features all sorts of school groups, businesses, civic organizations, churches and the like all putting together holiday floats from which they toss candy to the hoards of children who line the route. This year Kathy & I once again joined our friends Craig & Jodie and their children as well as our friend Carla & her son George (Sadly Big George wasn't feeling well) to watch the parade. This year we opted to watch in front of the Conch House Guest House, which by no small coincidence, was hosting a huge viewing party with food, drinks and a large number of our friends. It was a great time. Afterwards, we headed over to our friend Sheila's house where she was hosting yet another holiday party.
Melissa
The party season continued in high gear with a Fundraising party hosted by the wife of my boss, Veronica Webb. Veronica is a former Supermodel and is currently starring in the Bravo TV network show, Tim Gunn's Guide to Style. She has set up a charity called The Macedonia fund which provides scholarships to underprivileged children to attend the Key West Montessori School.
Michael & Veronica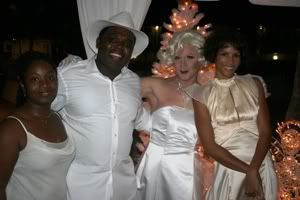 Corey & Lisa
The fundraising extravaganza, Winter White Wonderland in the Sand, was held at the Southernmost Beach Café (formerly Kelly's Beach Club) and was a huge success and a beautiful party featuring partygoers dressed all in white. Entertainment by The Blessed Community Gospel Choir and Ruby, the 24th Queen Mother of Key West provided a diverse example of Key West and the food was incredible.
Corey, Matt & Howard