Happy Easter!!
Happy Easter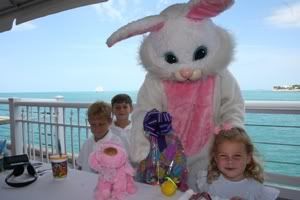 Julie, Nell, Bayla, Nella & Leela
March 27, 2008
Cricket
The spring season has just about wrapped up and the parade of visitors that head our way this time of year has been winding down. Kathy's father Jim has been busy hosting visitors for the past few weeks. Having visitors is fun and it means even more going out than usual and this month has been no exception.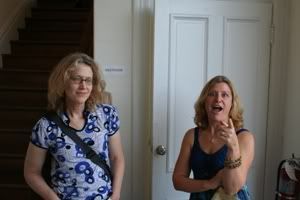 Julie & Kathy
The first group of visitors were down from Cape Cod, our friend Nell Husted's daughter Moosi, as well as her granddaughter, Nella and niece Leela. They all stayed at Jimmy's place, which has more room for guest's than Nell's place. Overlapping their visit was the arrival from Boston of Kathy's sister Julie and niece Bayla. It was nice to have such a large crowd here all at once and we set about entertaining the visitors. Thankfully the weather was about perfect.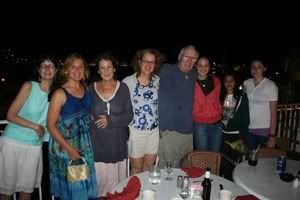 Moosi, Kathy, Nell, Julie, Jimmy, Bayla, Leela & Nella
In addition to eating out a number of times, including at the spiffy new Thai restaurant at Garrison Bight, we also took them to the monthly Walk on White. The third Thursday walk along White Street is always a pretty cool evening. We started at the Studios of Key West, where our friend Cricket Desmarais was closing an exhibit of photos she took on her recent trip to Cuba.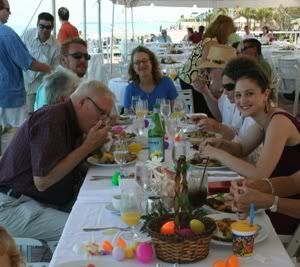 Easter Brunch
As visits go, these were both too short as far as we are concerned. We don't get to see our close friends and family nearly enough and when we do, the time seems to fly by. At least we got to spend a nice Easter Sunday brunch with friends and family. When she was alive, Kathy's mother Mary always hosted a big Easter picnic at Ft. Zachary Taylor for friends and family and we have tried to honor that by gathering each Easter as well. This year once again found us at the Easter brunch at the Westin resort with Jimmy, Julie & Bayla as well as our friends Ruth & Harry, Terry & Reggie, and Ali & her children.
Reggie & Terry
Bayla
Alicat & kids
Easter concluded at the annual bash held at the home of Jake & KT Rutherford, this year the party was a benefit for the Democratic party ( though I did speak to a few Republican interlopers who came for the free food & drinks). As always they hosted an eclectic mix of the types of Key West characters that we encounter all too infrequently these days. It was a great time- Thanks KT & Jake!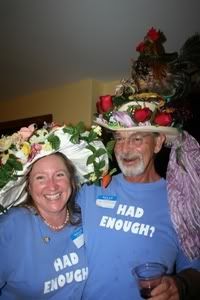 KT & Jake