Boston
June 15, 2006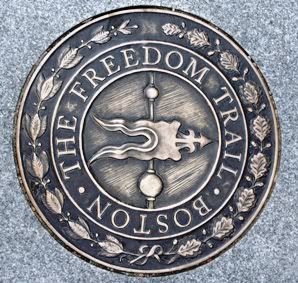 After a busy week with family, Kathy & I were back on our own yesterday and we decided to ride the train into Boston and explore the city. Boston is really quite an amazing city, you can't swing a dead cat without bumping into some famous historical landmark. We followed the "Freedom Trail" which is a marked walking path through Boston which includes many of the most famous sites from the Revolutionary War era of American History. We began near the site of the Boston Massacre and visited along the way… The Old State House (1713), Faneuil Hall (1742), Paul Revere's home (1680), The Old North Church (1723), The Charleston Navy Yard & the USS Constitution, The old Corner Bookstore (1718), The Old South Meeting House (1729), Granary Burying Ground, The Park Street Church (1809), and the Boston Common and Statehouse.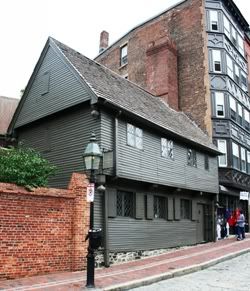 Paul Revere Home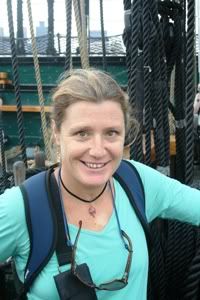 These sites include some of the most historical places in American History. The Boston Tea Party, the Boston Massacre, the Midnight Ride of Paul Revere, the Battle of Bunker Hill, the graves of Revere, Samuel Adams, John Hancock, Crispus Attucks and countless other Patriots make Boston a must see for anyone with any interest in history. It is also a vibrant and exciting place. The Boston Common is beautiful and we visited a moving and incredible Holocaust Memorial, which, while it seemed a little out of place, was worth the visit on its own. We managed to complete the entire trail in a single day. The weather was overcast and it kept threatening rain, but it never actually happened.
Today we are back on the road again, we are headed north, back to New Hampshire and then on to Maine. We will visit more friends and hope to go to Acadia National Park. Who knows when we may be on-line again. Finding internet connections has been at times difficult.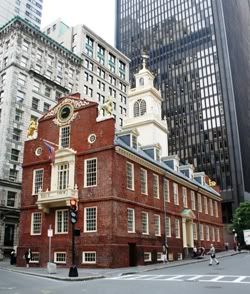 Old Statehouse