Masquerade March
October 28, 2006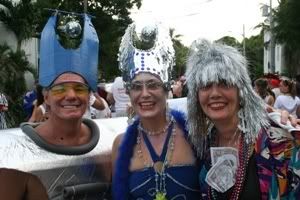 Gil, Kathy & Marilyn
Jim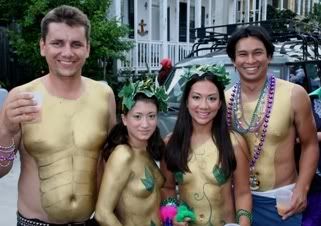 The Friday night festivities of Fantasy Fest are highlighted by the Masquerade March. A costumed march in which participants dress up and choose one of two paths starting from the Key West Cemetery and winding through Old Town stopping along the way at various guest houses and hotels each of which are serving free drinks for those in costume. It begins at about 5 and meanders through downtown at a leisurely pace for a couple of hours before merging into the gathered throngs on Duval Street where the Fantasy Fest street fair is going strong.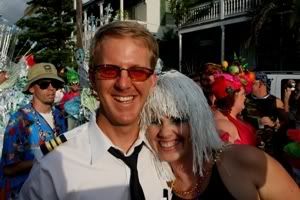 Craig & Holly
Graf & Eileen
This year had to be the largest crowd of revelers actually marching. We joined the throng along the Southern route, dressed in our Plutonian Garb. We found a few other Plutonians, but most of our group was busy putting the finishing touches on our space craft for the parade, or more likely, frantically trying to finish in time. The fun thing about this event is the large amount of local participation. Not that the parade doesn't have more locals, this is just more manageable, with a crowd closer to 5,000 than 50,000, making it somewhat easier to locate friends. Many people call this their favorite Fantasy Fest event. We still prefer the parade, but the masquerade march is tons of fun.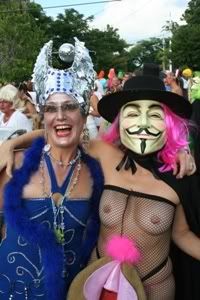 Kathy & Lori
The weather couldn't have been more perfect, with a nice breeze, low humidity and the temperature in the upper 70s. The walk was great and we encountered tons of friends along the way. If I thought the parade itself was crowded, the masses along Duval Street were incredible. The street fair featured a variety of vendors and food, beer and mixed drinks, much of it served by local non-profits which take advantage of the event to fill their coffers. The school where Kathy teaches was selling delicious chicken & rice and we headed there for a quick meal before blending back into the throng.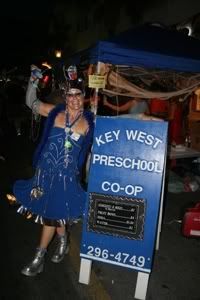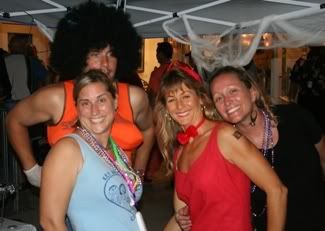 The PreSchool Coop Crew
Tonight is the big event and there is rain in the forecast which hopefully will hold off, though the festivities will go on regardless. We are ready, with only minor repairs to our costumes after two nights of use. The float will no doubt be ready as well, thanks to the hard working crew over at Dana's, Rick, Steve, Dave & Hutch deserve special recognition for getting it together. Now for the exciting news, this year- we will have a live web cam attached to the float and viewers will be able to watch the fun from the vantage point of the float. Click the link below to check it out. The parade starts at 7 PM EST.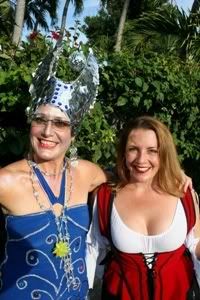 Kathy & Nadene
Watch Fantasy Fest Float Cam