Maine Coast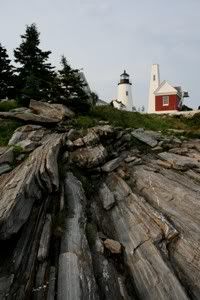 We found the coast of Maine so interesting that we extended the amount of time we had loosely planned to spend there, now we are on our way back south on 95 towards our base at Marshfield. Our time in Maine was wonderful. For the past 48 hours we have been exploring areas along US1 south of the Bar Harbor area.
First we spent part of our final day in Bar Harbor visiting the Oceanarium and Lobster Hatchery. This fascinating place is one of only two functioning lobster hatcheries in the state. Founded and supported by lobster fishermen, they last year released over 31,000 baby lobsters back into the waters off Mount Desert Isle. We took the tour and heard a wonderful talk. We next took the opportunity to walk across the harbor to Bar Island and to hike to the small summit that commands an excellent view of Bar Harbor. This can only be done during low tide as the path is underwater during high tide.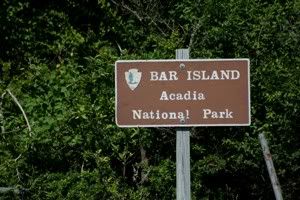 One of Kathy's good friends, Janine Blanchard and her boyfriend, Heath Higgins live in nearby Bernard, which is a small hamlet on Mount Desert Island and we drove over there to spend Wednesday night with them. A former Key West resident, Janine is now a pig farmer, currently raising 6 pigs, 3 turkeys, 2 goats and a flock of chickens. Heath owns the building where friends were having the grand opening of their new restaurant, The Moorings; located right on Southwest Harbor and we were treated to a wonderful meal overlooking the water. If you find yourself in the area, be sure to look up the Moorings.
Janine & Heath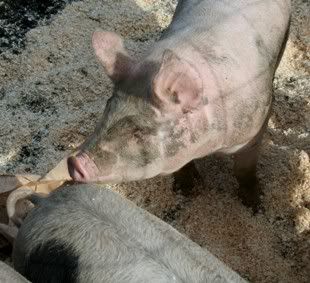 Thursday morning we were on our way early, this time to Blue Hill, where we visited the Marine Education Research Institute. (MERI) This local non-profit, has a visitor center along the main street in Blue Hill and is full of great educational displays and a touch tank of tidal pond creatures. We were also in Blue Hill to visit friends and family. Kathy's aunt, Marcia Fenn lives in Blue Hill and she provided us with a wonderful meal featuring local crab meat salad. We also stopped by the beautiful home and gardens of Tom & Kitty Clements. Tom was off hiking across Iceland with his son, but we had a great visit with Kitty, who gave us some of the tasty fresh strawberry jam she was in the process of preparing.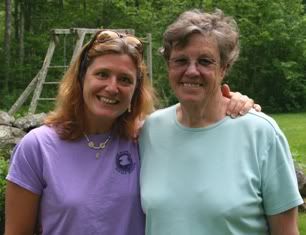 Kathy & Marcia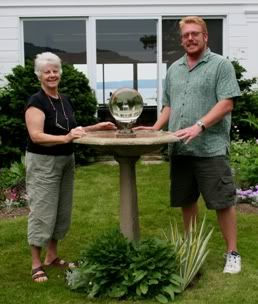 Michael & Kitty
We continued to follow the coast along US 1, turning off at Route 32 to head to Pemaquid Point. I visited Pemaquid Point some 30 years ago on a family vacation and I must say it has hardly changed at all. Route 32, twists and turns along some of the most scenic spots we have encountered on our trip and the Pemaquid Point lighthouse is spectacular and well worth the trip
We finished our day with a visit and overnight stay at Old Orchard Beach. Far different than anyplace else we visited in Maine, Old Orchard Beach is a sort of funky, tacky, touristy beach community much like Myrtle Beach or Coney Island. There is a large Pier, nightclubs full of big hair and loud music and a waterfront amusement park full of rides like the Tilt-A-Whirl and the Himalaya, It's not the sort of place we'd prefer to spend a lot of time at, but it is a slice of Americana that is fun to experience.