Christmas
December 28, 2007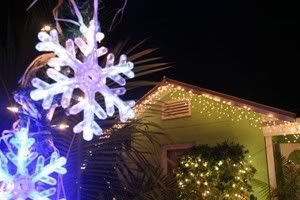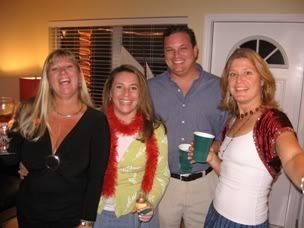 Fiona, Nadene, Trevor & Kathy
Christmas
Rebeccah, Michel & Malika
The week leading up to Christmas continued to be filled with all sorts of holiday events and social gatherings that culminated, for us at least, with our second annual Christmas Eve Holiday open house.
Nancy, Jake, KT, Joel & Mark
The holiday season wouldn't be complete without the annual visit of Kathy's aunt & uncle, Kathy & Al Needham and their son Alex. Their annual pilgrimage from the chilly climes of Scituate, Massachusetts (Alex from Boston) coincides with the Christmas holiday and adds greatly to the festivities of the season. In addition to the regular holiday festivities, we get to join them and play tourist a little, whether it's going out to eat at the Conch Farm or the Rusty Anchor or taking them to the Walk on White or just hanging out at the beach at Ft. Zachary Taylor State Park.
Rob & Kathy
The Rowleys
The majority of our time though was spent in preparation for the Christmas Eve party. We did a huge cleaning of the house, both the inside and the yard which took up most of a weekend. We also had to prepare all sorts of food and pick-up numerous platters of food and set up a nice bar.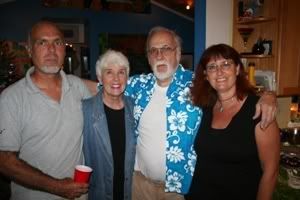 Mark, Judie, Bill & Wendi
India draws a crowd.
The party itself was great, the weather was about perfect and there was a beautiful full moon which made it all the more special. The best thing about it was the overwhelming response once again from our friends. We encouraged friends to bring along any family, out of town friends and children in order to be as inclusive as possible and we were not disappointed. It was a stunning success and our friends packed the house. It was interesting to see the blending of friends from the disparate aspects of our lives as friends of mine from work, church ,the Friends of the Library board and Kathy's parents and teachers from the Preschool all mixed in with our long time friends to form a happily eclectic mix of people of all ages.
In fact it was such a crowd, that Kathy & I had trouble getting around to talk to everyone, next year we have decided to hire bartenders and food prep to help alleviate this problem. Thanks to everyone who joined us, we had a great time. And if you missed out due to holiday conflicts or for any other reason, we hope to see you next December 24th.
Lisa, Todd, John & Nancy
Henry & friend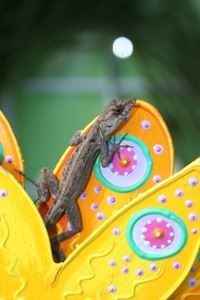 Christmas itself was a wonderful day as well as the Needhams joined us in opening presents before we all headed over to spend a relaxing and glorious day at the beach. Happy Holidays everyone and a Happy New Year as well!