Ottakringer
October 11, 2013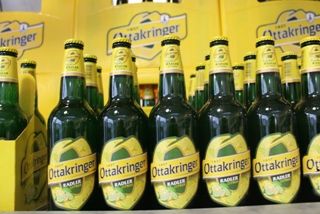 Ottakringer
Kathy and I had a list of things we hoped to do while we were in Vienna and yet we still wanted to keep the visit as loose as possible so our plans were very flexible, basically we just picked a place to start then spent the rest of the time exploring the area around where
we started. Even using this rather haphazard technique, we still managed to do most of the things that were on our to-do list, including visiting a local brewery, attending an opera and taking in some museum exhibits.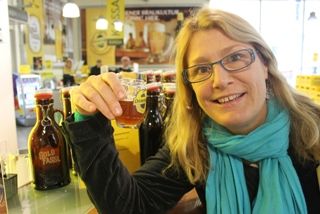 Kathy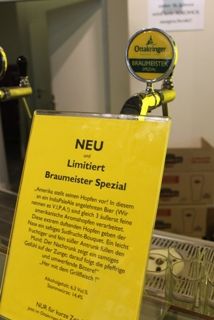 Our first stop was at the
Ottakringer Brauerei, which
is the last large brewery remaining in Vienna. It takes its name and is located in Ottakring, the 16th district of Vienna. The brewery produces what is possibly the most popular beer in Austria and always has one special selection on tap that is available only at the brewery itself and which of course Kathy and I had to try.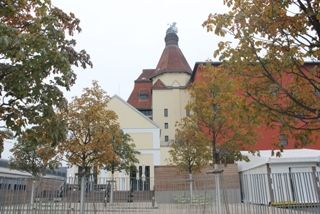 We spent some time hanging out and sampling the beers at the beautiful old factory which sort of resembled the exterior of the chocolate factory in the original Willy Wonka film. The beer was excellent as well. The most popular brand is
Ottakringer Helles
, a beer with an alcohol content of 5.2%. Other brands are the
Goldfassl
special beer ,a light, pilsner-style beer, as well as the
Ottakringer Radler
, which is a mixture of 50% Helles and 50% lemonade.
The company also produces
Ottakringer Dunkles
, a dark beer,
Ottakringer Schnitt
, a mixture of light and dark beer,
Ottakringer Zwickl
, an unfiltered light beer, and
Ottakringer Zwickl Rot
, a darker unfiltered beer.
The brewery was founded in 1837 and is not distributed outside of Austria and a couple of other European countries and it is not available in the US.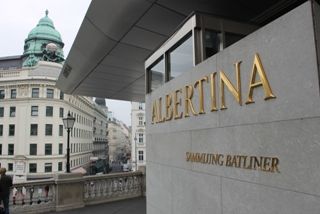 Our next stop was at the beautiful Albertina Museum where we checked out the two current art exhibitions that were on display. They could not have been more different as one featured Austrian photographer Gottfried Helnwein and the other was an exhibit about Matisse and the Fauves.
Helnwein is one of the most important internationally known Austrian artists.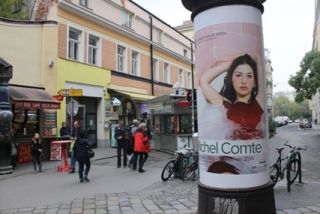 More than 150 works from all phases of his career provide insight into Helnwein's creative work, which is characterized by a pointed dialogue with taboo subjects. He primarily became known for his hyperrealistic paintings of wounded and bandaged children. Even Disney figures take on a menacing aspect in Helnwein's works. Pain, injury and violence are recurring motifs in his unsettling and disturbing works.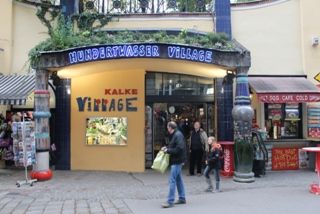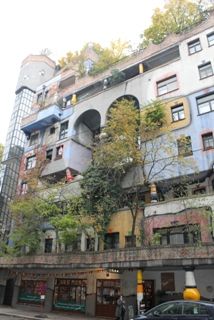 Most of that work was very creepy in stark contrast to the beauty and serenity of the Matisse work, but it was all very enjoyable and I am glad we made the effort to check it out.
While at the Albertina, I picked up a book about another famous artist whose work could be seen in Vienna.
Hundertwasser is a renowned Austrian artist and architect whose unique and somewhat controversial work can be found through Vienna.
One of his major works is a unique housing project called the
Hundertwasserhaus
is an apartment.
Built after the idea and concept of Friedensreich Hundertwasser with architect Joseph Krawina as a co-author. This expressionist landmark of Vienna is located in the Landstrabe district on the corner of Kegelgasse and Löwengasse.
Kathy and I made our way over to check out the amazing structure, which is about as unique a building as you will ever encounter.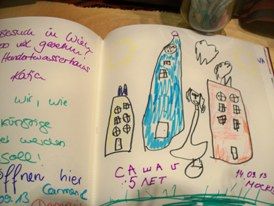 The last thing we crossed off our list was attending an opera in Vienna. We had wanted to attend an opera and were able to get tickets to see Salome.
Salome
, is an opera in one act by Richard Strauss to a German libretto by the composer, based on Hedwig Lachmann's German translation of the French play
Salomé
by Oscar Wilde. Strauss dedicated the opera to his friend Sir Edgar Speyer. The opera is famous (at the time of its premiere, infamous) for its "Dance of the Seven Veils". It is now better known for the more shocking final scene (often a concert-piece for dramatic sopranos), where Salome declares her love to – and kisses – the severed head of John the Baptist.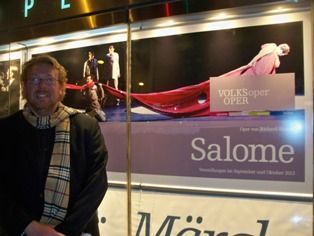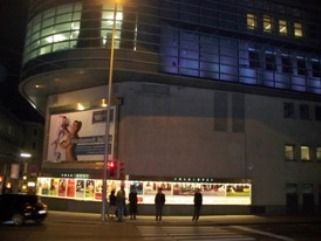 http://www.ottakringerbrauerei.at/
http://www.hundertwasser-haus.info/en/
http://www.albertina.at/en