Old Town, New Folk
March 27, 2009
David Wilcox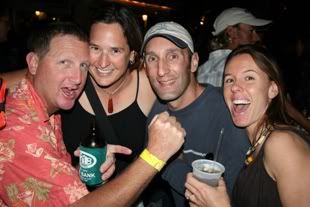 Enjoying the Reggae Fest!
Old Town, New Folk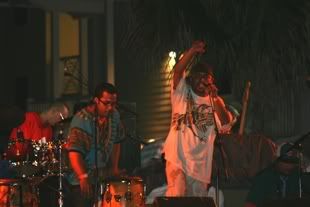 Suenalo
One of the most wonderful additions to the Key West cultural calendar wrapped up this week with the final installment of the Old Town, New Folk music series at The Studios of Key West. Kathy & I had the good fortune to attend every show of this year's amazing line-up of Folk singer/songwriters which was capped off by a great performance by the wonderful David Wilcox. And that wasn't the only musical treat of the week as we also went to the deluge-shortened, but no less enjoyable Reggae concert featuring The Original Wailers and the Miami based funksters, Suenalo.
Jay Scott
The folk music series at the Studios is the brainchild of their board member Jay Scott, who recently relocated to Key West with his wife Carolyn and their family. They had frequently hosted Folk singers at their farm in Wisconsin and thought that the Studios would make a great home for the series. We sure are glad they did. David Wilcox put on an amazing performance to finish off this year's schedule, but Jay already has booked artists like John Gorka for next season and we are really excited about the prospect of more great music on our island home.
David Wilcox live
The other big show of the week was another Reggae party at the Southernmost Beach. This one featured the original Wailers, including Al Anderson & Junior Marvin as well as the return of Suenalo. The show was on the beach and a huge crowd packed the beach to see the show. The show was going great and the wonderful vibe found at the recent reggae shows was in full swing at the perfect venue until about 5 songs into the Wailers set, the skies opened and a torrential downpour literally swamped the festivities.
The Wailers live
It was one of those storms where an incredible amount of rain came down in a very short time and it totally drenched and rained out the rest of the show. It was still a fun time as we all crushed under any available covered surface to try and escape the deluge. I ducked under the Montessori school tent where they had been selling jerk chicken moments earlier. It was a fun, though damp experience.
The Wailers
Rain soaked corn.
Escaping the Deluge.
This week also found Kathy taking her class on a field trip to the new Community Garden. As the school year winds down, field trips seem to come at a more frequent pace, it looks from these photos that the kids enjoyed their garden visit.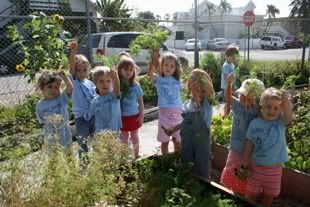 David Wilcox Website
The Wailers Website