More Songwriters
May 8, 2008
Nadene & Robert Earl
More Songwriters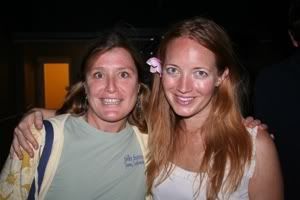 Kathy & Alissa Moreno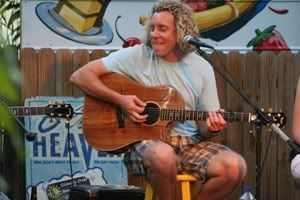 Dillon Dixon
The Songwriters festival is so massive; it could not be covered in a single blog entry. In fact, it is such a wonderful event, that no blog could possibly do it justice. You really need to experience it to have a full appreciation. And experience it we did, after rushing home from seeing Bruce ( if you call getting jammed in 2 hours of traffic on the 18 mile stretch rushing), we were right back at it Saturday afternoon.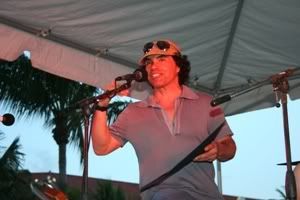 John Oates
We caught shows at the Tropic Cinema and at Blue Heaven before hitting the road, catching such writers as Melissa Pierce, Dillon Dixon, John Scott Sherrill, Wendell Mobley, Courtney Dashe, Robert Earl Keen, Chuck Cannon, Kylie Sackley , Dave Berg, Lee Brice & Jen Schott. It's tough to pick favorites but Chris Tompkins performing the Grammy winning hit song he wrote for Carrie Underwood, "Before He Cheats" was great fun.
Robert Earl
Courtney Dashe
Once back in town, we went over to the Casa Marina beach stage where we saw the likes of Scotty Emerick, John Oates, Kelly Archer, Ross Copperman, Sam & Annie Tate, John Scott Sherrill & Steve Bogard before heading down to the main stage at the Hog's Breath to see the headlining show with Robert Earl Keen & the Jeffrey Steele Band. As if that wasn't enough, we also hit the late night (midnight to 4 AM) show at the Bottlecap.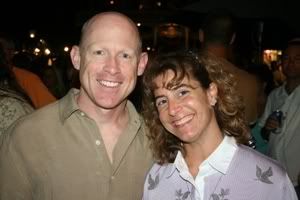 Dennis & Alli
It is amazing to hear songs you hear every day on the radio performed by the people who wrote them, it's even better to hear the stories about how the writers come up with them. It's also great to see performances by people who are obviously having a great time themselves. For the writers, the festival is a wonderful working vacation and it gives them a chance to mingle, meet and collaborate with other writers in the beautiful setting that is Key West. It's no accident that many Country songs of late have a tropical flavor to them, as the Key West attitude meshes nicely with Country music.
Blue Heaven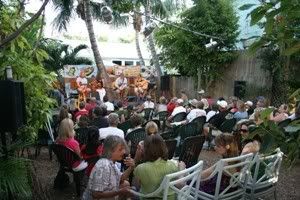 The festival wrapped up on Sunday officially, though there were a few post fest gigs. We volunteered at the final show at the Sunset deck at the Westin which featured D. Vincent Williams, Chas Sandford, Alissa Moreno and Chuck Cannon. It was a beautiful evening and a perfect sunset to enjoy the final show.
The festival performances are so relaxed and the writers themselves are as nice and thankful of the fans that come out to see them that it makes for an almost perfect mix.
D. Vincent Wiliams, Chas Sandford & Alissa Moreno