Civics Lessons
August 26, 2009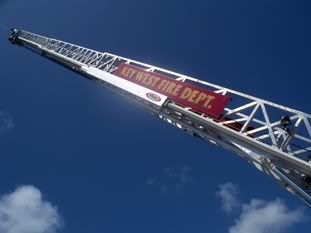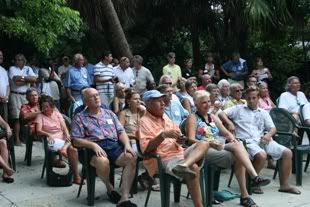 Hometown PAC event
Civics Lessons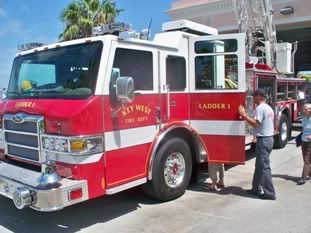 The return home to Key West after our Orlando mini-vacation heralded the end of the summer season and the transition into the fall and the start of the school year as well as moving into the fall election season locally. Kathy has been busy getting ready for the start of the school year at the Key West Preschool Co-op and preparing to welcome a new crop of bright-eyed three year olds to class.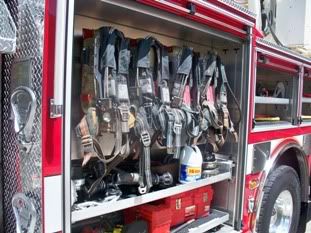 I have actively participating in learning about local government and the upcoming elections this year. First I have been taking a 16 week class offered by the City of Key West called the Key West Ambassadors program. This class meets once a week and focuses on a single branch of the city government each week.
We are 6 weeks into it and to date have had presentations and tours of the police department, the department of transportation, port operations, the housing authority and the city manager's office. This week, we toured the Key West Fire Department and had a presentation from Fire Chief David Fraga. It was another in a series of wonderful, informative classes that are designed to give citizens a look behind the scenes into what makes Key West tick.
This week was especially interesting, face it, who doesn't enjoy hanging out at a fire station, getting to see all the trucks and gear that comprise the Key West fire department and getting to hang out and talk with the dedicated firemen. It was my favorite class of program to date and it certainly gave us a much better appreciation of all that being a member of the fire department entails.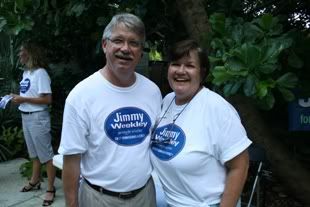 City Commission Candidate Jimmy Weekley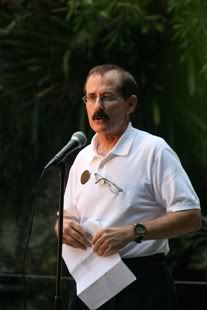 Candidate Tom Milone
The civics lessons continued at the first official event of the local election season which was hosted by Hometown PAC at the Botanical Gardens. The "meet the candidates" gathering allowed the public to meet at greet all the candidates running for Mayor and for the City Commission in the election this October. As a Hometown PAC Board member, I was there taking photos and listening to the candidates even through the rain showers that forced us to move indoors.
Hometown's Carol Wightman
I try to avoid overt political pronouncements on this blog, but would urge Key West residents to come out to one of the future candidate forums that we have scheduled and get involved in your local politics. It is nothing if not interesting, especially the local elections here in Key West. Check out the Hometown website for details and come be entertained and informed.
Candidate Clayton Lopez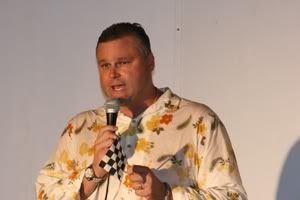 Incumbent Key West Mayor Morgan McPherson
Mayoral Challenger Mike Mongo
Hometown PAC