Counting Crows, Michael Franti & Spearhead and Augustana
August 19, 2009
Counting Crows, Michael Franti & Spearhead and Augustana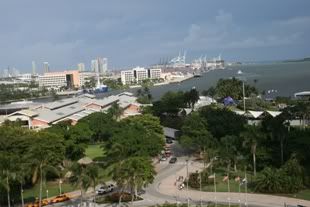 "Say Hey, I Love You" live in Miami
So to wrap up our trip, we headed south to Miami to attend yet another show in the Counting Crows, Saturday Night Rebel Rocker Traveling Circus & Medicine Show. This show was held at the newly revitalized, refurbished and reopened Bayfront Amphitheatre in downtown Miami.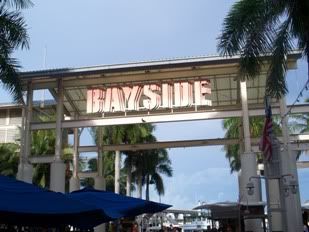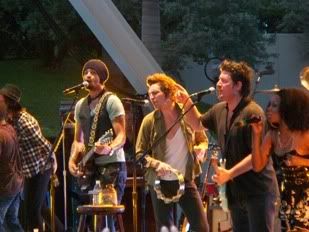 Things began well as upon checking into the Holiday Inn on Biscayne Blvd., located right across the street from Bayside and the amphitheatre, we were informed that we had been selected "Priority Club Member of the Day" which gave us a free upgrade to a fabulous suite on the top floor, free drinks at the bar and a free breakfast buffet the next morning.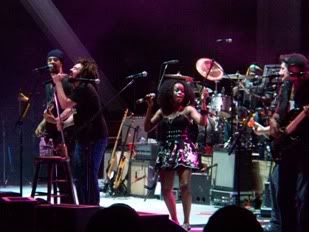 The view from the top was great, looking out over the bay and Bayside marketplace and the amphitheatre where the show was to take place. Kathy & I meandered down and through Bayside, stopping in at the Hard Rock Café for a drink before the short walk to the venue.
"Caravan" live in Miami
The venue was great, I had been there years before to see the likes of Nirvana & Jane's Addiction, but it had fallen into disrepair prior to the recent renovations. The venue seats about 3000 or so and has permanent seats and a small lawn area. We had seats up front in the 5th row, but were actually farther from the stage than we had been in Orlando where it was standing room only.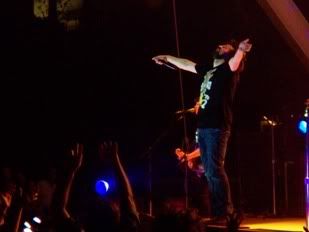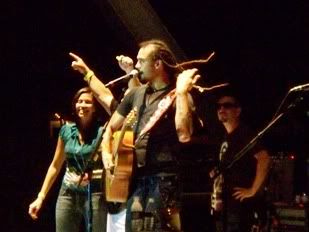 It was a steamy, warm but otherwise beautiful South Florida summer night. It was strange to have the show begin while it was still light out, but they had to, to be able to finish around the 11 PM curfew and still play for the 3 ½ hours.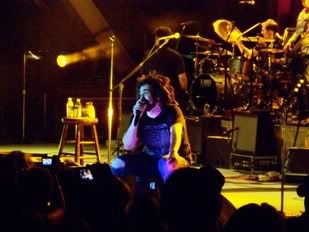 The show was fantastic again, the crowd wasn't quite as receptive as the Orlando crowd and the show seemed a little rushed at the end, but the magic and excitement of the fantastic format came through again.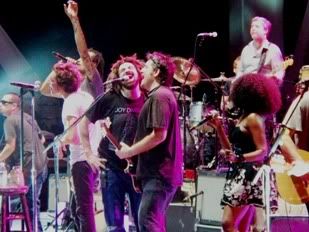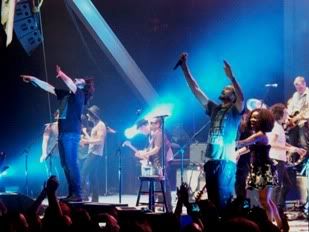 Once again, it was Michael Franti who brought the best energy to the stage, but all the bands were once again in top form. Another stellar performance. The youtube videos that I have included will hopefully give you a taste of what went on, though it really is one of those "had to be there" sort of moments.
Counting Crows – "Miami" live in Orlando