The Traveling Circus & Medicine Show
August 16, 2009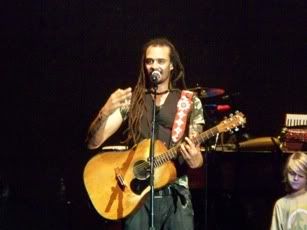 Michael Franti
Adam Duritz
The Traveling Circus & Medicine Show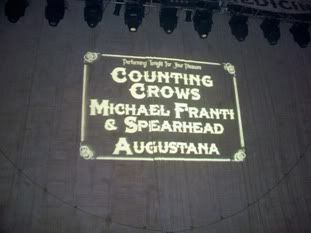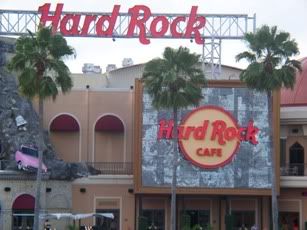 After a day at Disney, we headed over in the evening to Universal CityWalk to the Hard Rock Live to see the first of two shows in The Traveling Circus and Medicine Show featuring the Counting Crows, Michael Franti & Spearhead and Augustana.
The concert was a rarity in that unlike the traditional opening act, break, headliner; in this show all the bands shared the stage at the same time, together, solo or with various combinations that made for a truly unique concert, unlike anything I have witnessed in the more than 500 concerts that I have attended.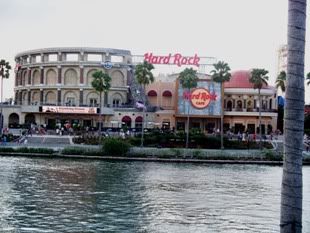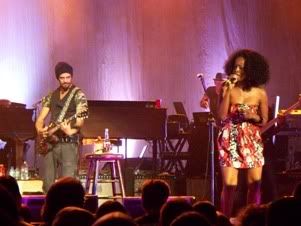 The venue was great, a large open standing room only in front of the stage, with a balcony and excellent acoustics and amenities as you might expect at the World's largest Hard Rock Café. We even met up with some other fans, Chris & Elizabeth, from the CC boards from their website who happened to be standing next to us.
Chris & Elizabeth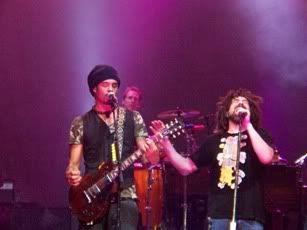 The show featured each band playing their hits, often accompanied by members of the other bands, they even sang each other's songs as well as sharing the stage with as many as 20 performers playing together on a variety of cover songs starting with Van Morrison's, "Caravan" and wrapping up with a stirring version of Woody Guthrie's, "This Land is Your Land".
In between, there were more than 3 ½ hours of some of the best live music you will ever see. The unique format ensured that each band was at the top of their game and the highlights seemed to come one after the other throughout the night.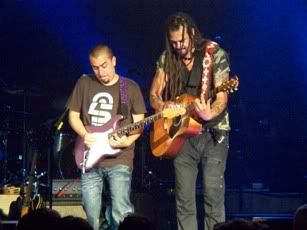 As much as I love the Counting Crows, having seen them live upwards of 40 times, it seemed that Michael Franti brought the most energy to the show. As great as the Crows and Augustana were, and both bands were on, whenever Franti was singing the energy of the place was shifted into overdrive. It was awesome.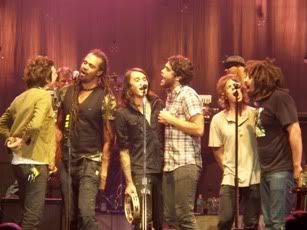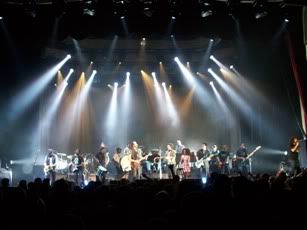 Franti even pulled members from the crowd and strapped guitars on them at one point and during his hit, "Say Hey, I Love You" he brought a child onstage to sing along. Rather than seeming like tried and true concert gimmicks, these moments came across as spontaneous and heartfelt. In fact all the bands really seemed to be enjoying the format and it really came across in the energy of the performance. It was a wonderful, fantastic show and I can't wait to see it again in Miami.