Halloween at the Parrot
November 1, 2006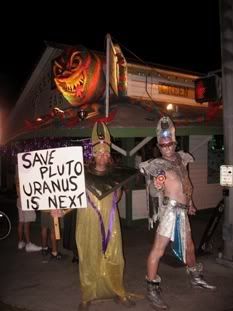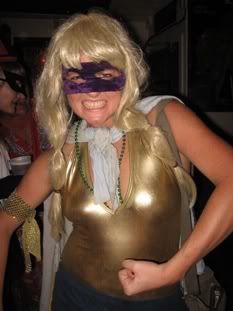 Esme
Bonerama
Halloween in Key West, can be something of a let-down after all the insanity that is Fantasy Fest, but for the past "30 something" years, the Green Parrot bar has hosted what was once the premier Halloween costume contest on the island. It has fallen off in recent years, but still brings out a cadre of devoted and fun loving costumed islanders. Time was that Waterfront Market owner Buco and his pals could be counted on to show up with a huge themed masterpiece to take the Grand Prize. Usually the cost and effort of their costumes far exceeded the somewhat meager prizes. Buco retired from competition some years back, which was sad on one hand, but it also opened the competition up and gave others a chance at glory. Kathy & her flamingo friends won 1st prize a few years back but she was still a little too worn out to participate this year.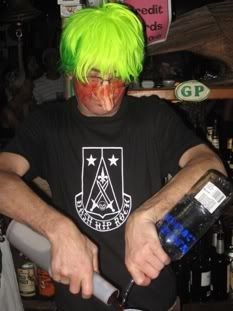 Pat
Jim
I headed downtown after handing out candy to the neighborhood kids, we had a good number this year and all in costume which is nice. I stopped at the Tropic Cinema and went to see the controversial new film, "The Death of a President". The mockumentary or fake documentary film depicts what might happen if someone killed the President. Once you get past the gimmickry of the premise, the film itself is a gripping story and fairly well made and believable. Check out the link below to watch the trailer.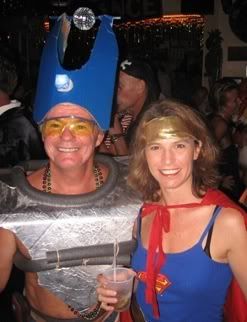 Gil w/ Supergirl
After the film, I walked over to the Parrot to find a small gathering of Plutonians left over from the parade representing in the contest. They sure seemed like the best of the sparse number of contestants but ended up placing third, behind girls dressed as Steve Irwin & a stingray and a guy dressed as a melting polar ice cap. It was still a fun night, with the band New Orleans based brass band Bonerama all decked out in costumes of their own and playing their unique sound made up of horns only.
The Winner?
Now the focus shifts to the next big Key West event with the arrival of thousands of Jimmy Buffett fans for the 15th annual "Meeting of the Minds" parrot head convention. Kathy & I, while not true Parrotheads, attend each year for the great line-up of music the event brings to town. Jimmy himself plays every other year or so, the last time was on the beautiful beach stage at the Casa Marina two years ago. This year includes sets from Keith Sykes and Jerry Jeff Walker. I even volunteered to stuff "goodie bags" for attendees this morning.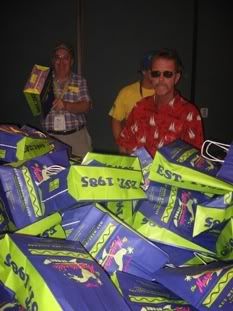 Bag Stuffers
Parrot Head Schedule
Bonerama Web Site
Death of A President Site