Chattanooga
November 28, 2007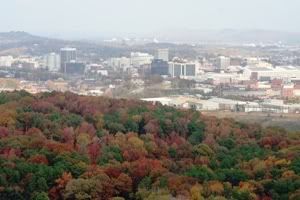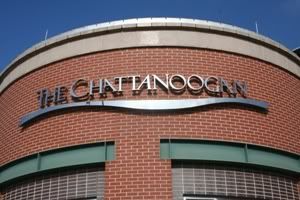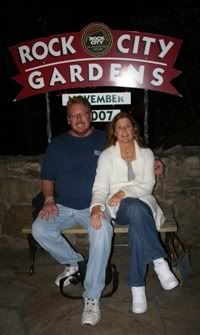 Chattanooga
During our cross country trip two summers ago, we drove through Chattanooga, Tennessee on I-24. We didn't stop there, but Kathy became fixated on the place and has spent the better part of the time since convincing me that Chattanooga is not only a place we should visit, but a place where we should consider purchasing another home. Finally after months of suggestions, I relented and agreed to visit the city over Thanksgiving.
Tennessee Aquarium
We drove up from Key West, stopping in Macon, Georgia where we dropped India off at the home of her brother Peppy and our friends JD & Amy. At least one of us would actually be spending Thanksgiving with family. It is always good to see those guys and we can not thank them enough for watching India while we scouted out Chattanooga.
The city is just across the Georgia/Tennessee border about an hour and a half from Atlanta. It sits in a beautiful valley surrounded by Lookout Mountain and Missionary Ridge with the Tennessee River winding through the heart of the city. We stayed at a huge conference center/hotel called The Chattanoogan which was quite nice. It was a fairly easy walk to downtown or we could ride the free electric powered shuttle bus that runs every 5 minutes. We spent the first afternoon exploring the Riverfront area of downtown. The huge Tennessee Aquarium is the anchor of all sorts of redevelopment in a thriving, yet very relaxed and manageable downtown area.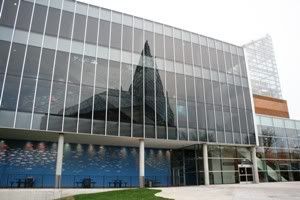 The weather was perfect about 75 and sunny during the days dropping 20 degrees or so each evening. I'm guessing it was unseasonably mild, but we were not complaining. Another plus was that the Fall Foilage seemed to be almost at peak color, a nice surprise considering how late in the season it was.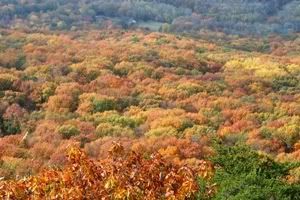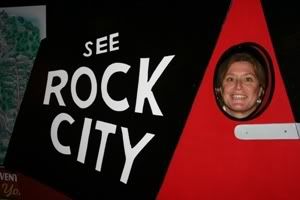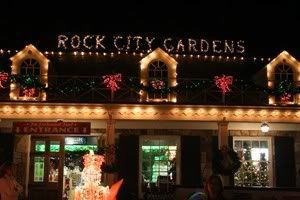 Our first night, we decided to go to the Holiday light celebration at one of America's oldest and most revered tourist attractions, Rock City. Anyone who has traveled the roads of America has probably seen a barn or sign proclaiming "See Rock City". Rock City is celebrating more than 75 years as a tourist destination and we went at night to take advantage of their Enchanted Garden Holiday of Lights. It really is a pretty spectacular place, with great views from its location atop Lookout Mountain. It also maintains a kitschy quality complete with creepy old figurines displayed in Fairyland Caverns.
See Rock City