Holiday Season
December 6, 2006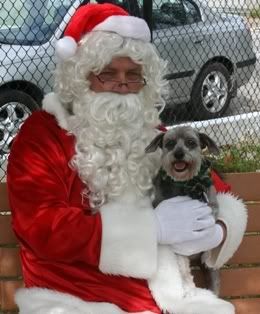 The Holiday season in the Keys is unlike any other place that I have been. Something about being the Southernmost city with warmth and sunshine rather than snow or ice seems to bring out holiday intensity in the local community far greater than many Northern locales. Perhaps people here make up for the less than wintery weather by going to even greater extremes when it comes to celebrating the holiday season. There are no shortages of holiday themed events and people here take great pride in the huge holiday light displays that show up all over town.
This is one of Kathy's favorite times of the year and we join in the frivolity, not only by decorating our house with an ever increasing display of Christmas lights, but we also attend numerous Holiday parties and events of which there is no shortage to choose from. The season began in earnest this past weekend and is starting to kick into high gear this week. Our busy schedule began Friday evening with a stop at the groovy little store, Besame Mucho for a holiday book-signing by Veronica Webb who was signing a book that she is featured in about the history of the fashion of The Gap. The Gap stores are one of the sponsors of the Red Campaign which is raising money and awareness for the Global Fund. Veronica is not only a beautiful and talented supermodel, she also happens to be married to my boss at RPM Nautical, George Robb so the event was like a fancy work party. The only staff member missing was my buddy Craig, but he had a great excuse as his wife Jodie had given birth to their second daughter, Marlo, earlier in the day! Congrats!!
George, Carla, Izzy, Craig, George, Kathy & Nadene
Our next stop was at the annual Angel Bear party, held this year at La Te Da. This party is a benefit for AIDS help, held each year on World AIDS Day in which you purchase a stuffed angel bear off a giant Christmas tree and replace it with a card memorializing someone close to you affected by AIDS. Our bear represents my good friend and former co-worker John Perez, who passed away some 10 years ago.
Saturday, We started the day at the first of the monthly Friends of the Library book sale at the Key West Library. I serve on the board of the Friends group and try to make each event they have. Later in the evening Saturday, we gathered with our friends Nadene, George & Carla and their son George and new father Craig and his first daughter Izzy to watch the annual Key West Holiday Parade. The city goes all out for this huge parade which features about every civic, church and school group and tons of large floats filled with folks tossing candy to the kids lining the parade route. It is amazing how long the parade is and how much candy the kids get.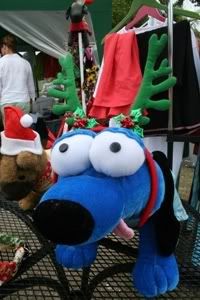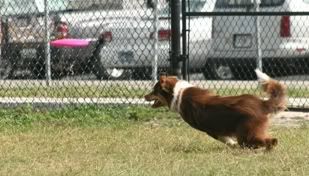 Tucker
Adelheide & Kathy
Sunday we went to a couple of cool holiday events, first we took India to the first annual Pet Expo at the Higgs Beach dog park, there she was able to romp with hundreds of other dogs and even got to visit with Santa. Our friend Richard was there with the crew from Lazy Dogs and his dog Tucker performed a demonstration of agility that was pretty good despite the hung-over condition of both dog and owner from the Ricky 5.0 party the night before. Next it was off to buy our Christmas Tree at the MARC (Monroe County Association of Retarded Citizens) sale. We found our friend Adelheide volunteering there and she assisted us in selecting a fine tree. Our final stop was a brief one at the City of Key West Children's Holiday Festival at Bayview Park where Kathy only knew about half of the children present. They did have tasty snow cones I must say.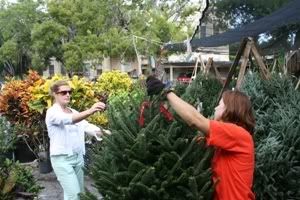 Selecting a Tree
Lisa at Kids Day
http://www.gap.com/red
http://www.besamemucho.net
http://www.marchouse.org
http://www.worldaidsday.org