The Simple Life
November 30, 2006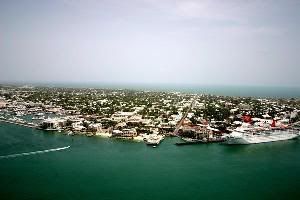 Key West
It has been more than a week since my last posting, mostly because we have not been keeping up with our typical busy social calendar. In fact we have been homebodies, opting to take advantage in the brief lull in activity between Marta's departure and the start of the festive holiday season. We have been living the simple life, not the Paris/ Nicole version, but a relaxed at ease stay at home and watch movies sort of way. We even opted to remain home alone and share Thanksgiving together rather than take advantage of one of the kind invitations that some of our friends extended.
We haven't been feeling anti-social, just every now and again we need to take a moment to re-charge and relax.
We spent time watching movies with our new NetFlix account, playing with our pets including the new family of chickens with a mother chicken and six chicks that have taken up residence in the yard. Our yard has become a virtual wild kingdom with the chickens, a large iguana and numerous birds including the dreaded hawks which swoop down to try and get at the chicks. Who knew mother chickens could be such vicious defenders of their young. To date she has fended off numerous attacks and all six chicks are still around.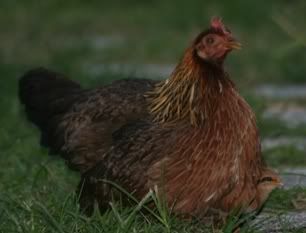 Mama Chicken with chick
We have done a few things of interest; we spent a day over the beautiful weekend at the beach at Bahia Honda State Park. Voted one of the ten most beautiful beaches in the US, Bahia Honda was a perfect excuse to drive up the keys a little ways. We also stopped at the famous Big Pine Key Flea Market. Sadly the market seems to get less appealing each year and we noticed a very high junk to interesting ratio.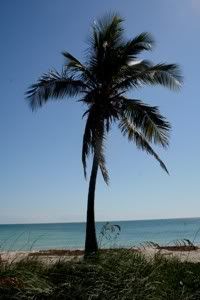 Last night, we headed over to Atlantic Shores to see the documentary movie, "Burning Man, Beyond Black Rock". Still one of the coolest things to do in Key West, seeing a film at the Shores is a great experience. Show outdoors, under the stars, patrons sit in lounge chairs and munch free popcorn while ordering up drinks from the bar and watching movies. The Burning Man documentary was great; it really gave an in depth and fascinating look at the huge festival held in the Black Rock desert each year. It was presented as part of the new venture by the ousted former director of the Tropic Cinema, Michael Shields and the positive vibe at the shores recaptured the old heyday of the Film Society when it presented films at the old Wooden Head Gallery. I could almost feel the spirit of Bev Horlick looking down at us and smiling.
Finally my friend Ruth asked me to post an announcement of an event she is organizing that we are looking forward to with great anticipation since we were out of town last year for the first one. The second annual Key West Dachshund Walk will be held on New Year's Eve Day, Sunday December 31 at noon. Due to the huge (63 wiener dogs) turnout last year, the meeting place has been changed to Whitehead and Fleming, the parade will then proceed to Duval Street over to Angela and back around. The event is free and open to all Dachshunds and their owners or you could just come out to watch. It should be interesting judging from these pix Ruth provided me from last year. Hope to see you all there.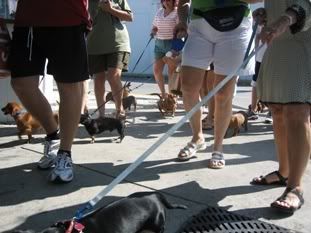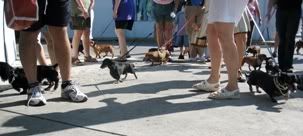 Burning Man Movie Website