Kentucky State Fair
August 25, 2006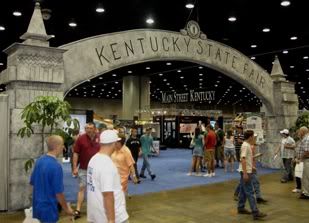 We have been making such good time on our trek back across the country that we found ourselves with time to make a visit to the Kentucky State Fair in Louisville, where we spent one night on our journey home. I had wanted to go to at least one fair during a trip and this one worked out with our schedule and travel plans.
A long-time fan of the much larger Indiana State Fair held in Indianapolis, I was hopeful that the Kentucky State Fair would offer the same sort of fun and interest. I am sad to say it was a little disappointing. It is not only much smaller in scale, but it has the disadvantage of not being held at a true fairgrounds. More like a collection of arenas and parking lots near the University of Louisville's Freedom Hall & football stadium.
Still we managed to find some fun things to see and do. We went to the lumberjack show, to see the Kentucky Pork Producers Racing Pigs, to the bike & skateboard show and we looked around at the many farm animals and displays that were there. We also consumed a large quantity of delicious fair food such as elephant ears and snow cones.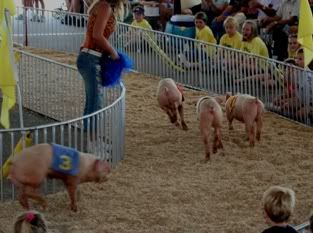 Racing Pigs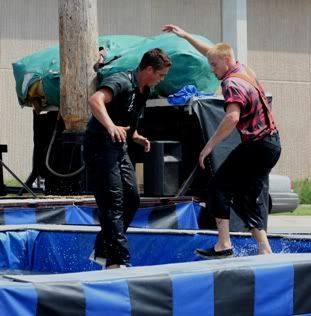 Log Rolling
The large midway which included the nearby Six Flags Kentucky Kingdom was only open during the evening, which was sort of a bummer since we were mostly there during the day and did not get a chance to spend much time there. We still managed to have a good time. We even saw Kentucky Governor Ernie Fletcher signing autographs and celebrating the fact that he had just been cleared that very day of some horrid corruption scandal due to a lack of evidence. It was all over the local news.
After a long day of fair-going it was back in the car for an evening trip across the rest of Kentucky and into West Virginia where we now find ourselves. Sadly we have been out of internet range for this entire week, so the last few blog posts have been late in posting, I apologize, but we decided long ago to not spend time or effort seeking out internet connections, but rather to post when we can. Up till now it has not been that mch of an issue.