Homeward Bound
August 23, 2006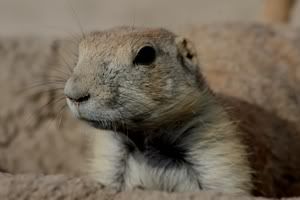 Prairie Dog Town
After more than 12,000 miles and 26 states, we are finally on the way back to Key West. It's crazy in a way, it took us three months to get from the East Coast to Colorado and three days to get back in the Eastern Time Zone, as we now find ourselves in Louisville, Kentucky, on our way back to the East Coast to pick up our dog India before heading south.
We spent the majority of the past few days on the road, first from Lyons back to Manitou via the Denver airport where we dropped Marika & Brian off for their flight home. We spent a final night at the Kilroy's in Manitou before packing up, saying goodbye and hitting the road.
It's a long drive across Kansas, Missouri & Illinois and it was not without some interesting stops and incidents. First we had two near disastrous events in quick succession just before leaving Colorado. First a large rock about the size of a baseball was flung into the side of the car just six inches below the passenger side window by a large grass mowing machine. A little higher and it may have smashed through the window. The second incident happened when we stopped to check the dent at a gas station and while filling the tank, the auto shut-off failed to work and a few gallons of gas spewed out all over the place as we washed the windows. Two scary moments in the space of a few minutes, but we came out ok.
We stopped a few times at interesting places along the way. My personal highlight was at Prairie Dog Town, a roadside attraction in Oakley, Kansas. Open for more than 40 years, Prairie Dog Town is a sort of roadside zoo, with the central attraction a large colony of adorable Prairie Dogs. They also had a case full of about 50 rattlesnakes, a 6 legged cow, and a large variety of other animals such as foxes, badgers, goats, buffalo, and bobcats and such. We had a great time there and I highly recommend anyone who finds themselves along I-70 in Kansas stop and check it out.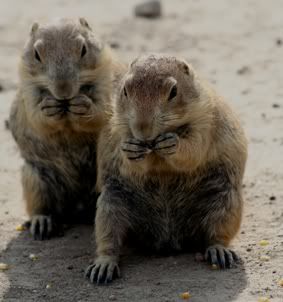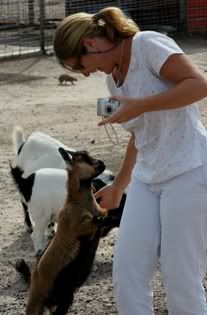 We had a great Fried Chicken meal at the infamous Ed's Chickenette diner in Hays, Kansas. For over 46 years, Ed's has served delicious fried chicken and our meal was no exception. It was a nice respite in the over 1200 miles we have driven this week.
Ed's Chickenette
We also found time to do a drop in visit to our good friends Pat & Dianna Davis and their children Holland, Ansley & Landon in Newburgh, Indiana near Evansville. They have spent the past six months recovering from the devastating tornados that hit the area last year and we had a great visit and dinner with them. Their house escaped significant damage, but homes just across the street were almost totally destroyed. It gives you an idea of how fickle fate is.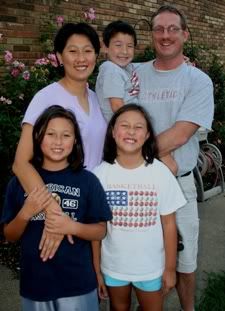 The Davis Family