Red Rocks Canyon
August 17, 2006
Red Rock Canyon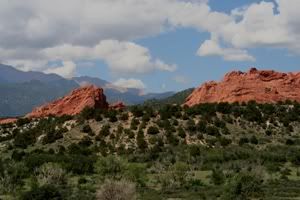 Garden of the Gods
Today we are off to Estes Park, but we managed to sneak in a little more hiking yesterday prior to our departure. Kathy & I, along with Sophie & James went over to one of Colorado Springs newest parks, Red Rock Canyon to hike. The mostly untouched 787 acre property was recently purchased by the city of Colorado Springs and is being transformed into a beautiful park. There are huge red rock outcroppings, pristine mountain lakes and a plethora of hiking trails. We had perfect weather and spent the better part of the morning making our way through the place. We next headed over to the Garden of the Gods visitor center. The Garden of the Gods is a National Historic Landmark and an amazing collection of rock formations that just happens to be located just up the street from our home here. There are more than 8 miles of trails and some amazingly beautiful rock formations and we wanted to get some information in case we return with Marika & Brian who we next drove to Denver to pick up at the airport.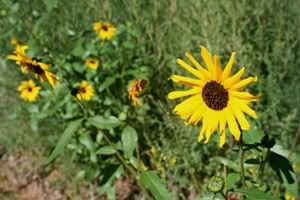 Kissing Camels- Garden of the Gods
In the airport is this wonderful wacky art piece featuring a map of the USA with many of the zany places found there highlighted. It seemed a perfect backdrop for a photo since we have visited many such places this trip.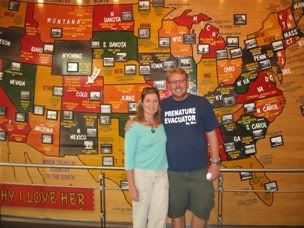 Once arriving back in Manitou, where Marika & Brian settled into the Victoria's Keep bed & breakfast, we were joined by the Kilroys for a delicious Mexican meal at the loop restaurant. Today, we are on the road again, driving to Estes Park for the festival, Rocky Mountain National Park and to see yet more friends.
Garden of the Gods Info