Into the Land of Enchantment
August 8, 2006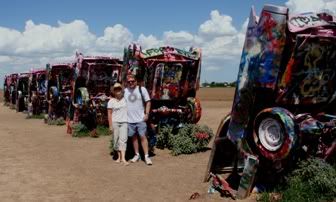 Cadillac Ranch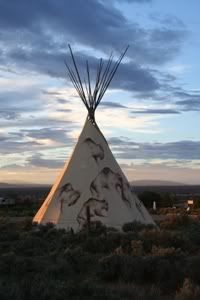 Taos, NM
Much of the day yesterday was spent driving from Amarillo, Texas to Taos, New Mexico where we currently find ourselves. We drove much of the way along the classic Route 66. It was at once exciting and somewhat sad due to the state of abandonment that is so prevalent along the road.
Along the way, we would stop at interesting roadside attractions. Perhaps the most interesting was the Cadillac Ranch. In 1974, as a tribute to America's best automobile, a collective of artists called Ant Farm decided to place 10 Cadillacs, ranging from a 1949 Club Coupe to a 1963 Sedan, in a wheat field located west of Amarillo, Texas. Ten big holes were dug and the cars were driven with their front end into them. Now, people are encouraged to bring their own paint cans and paint the cars as they wish, creating an ever changing art object that is beautiful in a strange way.
We also drove through many small towns, perhaps the most interesting was Tucumcari, New Mexico. Here there are many former hotels and other prominent roadside attractions from the glory days of Route 66. The Tee Pee Curio shop seen below is typical of the type of interesting place that once populated the road. Now few are left open, though the dilapidated remains of many others are still visible.
Tucumcari, NM
We continued on through Santa Fe, then to the small community of Dixon where we visited one of Michael's lifelong family friends, Fritz Kackley. Fritz is a talented artist and we were able to get a tour of his studio and wonderful home nestled at the foot of beautiful mountains. He has been battling a tough year of rain with frequent mudslides and flash floods that have threatened his home with flooding. It brought back reminders to us of what we experience each hurricane season. Thankfully this year has been quiet for us so far.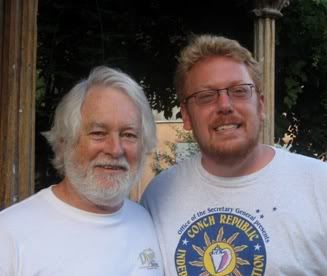 Fritz & Michael
After a nice visit with Fritz, we drove the short distance to Taos, where we had a great Mexican meal and checked into our hotel. This beautiful small artist community is full of great restaurants and art galleries in addition to the amazing setting with Mountains all around. We are looking forward to exploring Taos today.