Memphis
August 1, 2006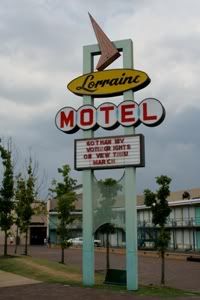 Memphis is famous for many things, not all of them as wonderful as Graceland, Sun Studios, the Peabody Ducks and delicious barbeque. On April 3, 1968, Dr. Martin Luther King Jr. was assassinated at the Lorraine Motel while in town to assist sanitation workers who were on strike. This horrible tragedy has been commemorated with the transformation of the tragic location into a wonderful museum which chronicles America's civil rights movement, the National Civil Rights Museum.
The museum incorporates the hotel balcony where Dr. King was slain as well as the rooms where Dr. King spent his final hours and the location where his killer fired the shot that killed him across the street. The massive and comprehensive museum is full of heart wrenching displays and tributes to the civil rights struggle. After the surreal experience that is Graceland, the sobering displays at this museum are at once thought provoking and cause for outrage. Of all the things we would have enjoyed seeing in Memphis, I am really glad we choose to visit the museum.
We could have stayed much longer in Memphis, but we felt the need to get back on the road and continue our trek west. Saying goodbye to Annabelle & Abbey was difficult. They were wonderful and enjoyable hosts. Our final evening in Memphis was spent at one of the classic and best barbeque restaurants anywhere, the famous Corky's. This place is amazing and well worth its excellent reputation. If you ever find yourself anywhere near Memphis, it is well worth a special trip.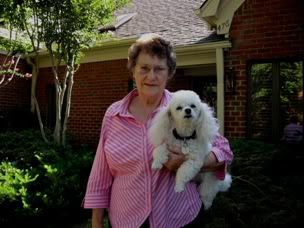 Annabelle & Abbey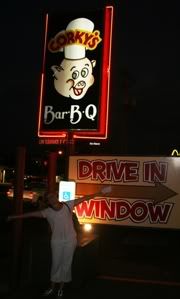 Corky's
We have had a special guest ride along with us since we left Baltimore. When packing the car at the parking garage in downtown Baltimore, we noticed a small spider had built a web on the driver's side rearview mirror. Each day as we drive, he crawls behind the mirror, often wrapping up his web and taking it with him, yet each morning the web is back and there he is. So far he has traveled, through Maryland, Virginia, North Carolina and Tennessee, more than 3 weeks and 1500 miles and he is still there. We call him Spidey. I tried to take a photo of him, but it did not come out so well. I guess he will just ride along until he finds a place worth settling in and hopping off.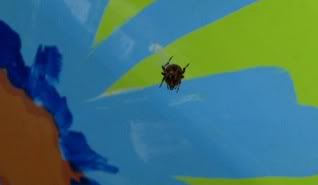 Spidey