Colorado…at last!
August 9, 2006
We have finally arrived in Colorado. We have been telling everyone that our trip concludes in Colorado, which is not actually correct since we still have to drive back across the country to pick up India before returning home, but it does mark the goal we have been aiming for since the beginning.
We spent the better part of the morning in Taos, exploring the beautiful little town's many fine art galleries, shops and such before heading towards Colorado. We drove over the 650 foot Rio Grande River Gorge on the way. It was so impressive we had to stop to walk across the bridge and check out the gorge. On the far side of the bridge, vendors had set up selling jewelry and handcrafts. Kathy bought a beautiful necklace from George Ray (pictured below).
Kathy & George
We stopped at the border to document the excitement of finally reaching one of our goals and then drove to the Great Sand Dunes National Park and Reserve near Alamosa to see the amazing huge sand dunes there. It is a truly an amazing place. Nestled at the base of the rugged Sangre de Cristo Mountains, the largest sand dunes in America rise to heights as great as 750 ft. Continuously shaped by the shifting winds, the dunes cover more than 30 square miles. Photos and descriptions can not possibly do this place justice, the awe one feels when hiking up the dunes is incredible. Kathy & I hiked well into the dunes; it wasn't easy, walking through steep, hot sand is more difficult than it looks. Your shoes keep filling with sand and it at times feels as if you are walking with weights on your feet. It's worth it though, beautiful vistas of sand and mountains are visible over each successive rise.
We stopped for the night at a hotel in Monte Vista that we had read about in a book called "Eccentric America", the Best Western Movie Manor hotel is the only hotel in the USA in which all the rooms open up to a drive-in. So you can sit in your room and the sound is piped into your room. It is a pretty unique experience. The movie playing for us was, "Pirates of the Caribbean- 2", which sadly was not nearly as good as the original nor worthy of the fun experience. We plan to be in Colorado for at least 10 days, there is so much to see and do here, plus we get to visit family.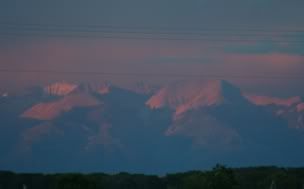 Purple Mountain's Majesty
Great Sand Dunes National Park