Folks Fest Day 2
August 20, 2006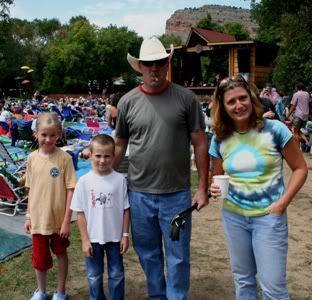 Sophie, James, Chris & Kathy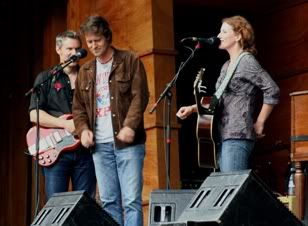 Blue Rodeo's Jim Cuddy joins Kathleen Edwards on stage.
The second day of the Folks Fest in Lyons featured another 12 hours of amazing musical performances. We were up early and made our way in to set up camp, our two sun-shades that could serve as a base for our large group. We were joined by Chris, Kari, Sophie & James who drove up from Manitou Springs for the day. We also had Kerry & Bruce, Kerry's parents, Mike & Donna Egan and a number of their friends from Estes Park join our entourage, so we made good use of the large space we appropriated in the sunshade section.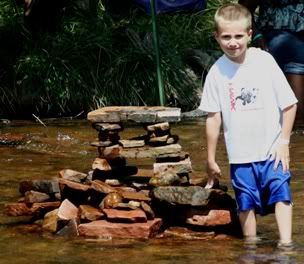 James in the River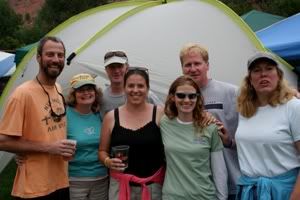 Bruce,Donna, Mike, Kari, Kerry, Brian & Marika
Another stellar line-up of musical performers included Kathrin Shorr, Steve Seskin, Elvis Perkins in Dearland, Issa (formerly Jane Siberry), Guy Clark, Kathleen Edwards, The Waifs, and Kris Kristofferson. The diverse line-up provided a wonderful and eclectic mix of music. Something for everyone. Despite the Folk Fest name, much of the music extends far beyond the range of traditional folk and includes country, alt-country, coffee house, alternative and rock.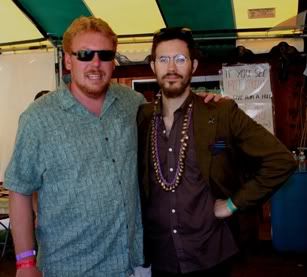 Michael & Elvis Perkins
Kathrin Shorr was the winner of the annual songwriters contest at last year's fest and thus earned a shot at the main stage this year and it was easy to see why she won. A terrific voice with wonderful songs, she was one of the pleasant surprises.
I think the most interesting and eclectic performer was Elvis Perkins in Dearland. Elvis is the son of "Psycho" actor Anthony Perkins and photographer Berry Berenson who was killed in a plane on 9/11. He is a gifted musician and a quirky song-writer and gave a very eclectic performance. He was also a really nice guy as we found out after his performance when he spent much of the day hanging out in the crowd.
Marika's favorite was the Canadian singer Issa, who recently changed her name from Jane Siberry. Her performance showcased her beautiful voice and quirky personality. Marika & Brian went right up front in the bright and hot sun to watch her.
Brian & Marika enjoy Issa
Guy Clark is a west Texas legend and proved to be a favorite of the actual performers as most of the other artists crowded the front to watch his set. His gravelly country songs and poignant stories did not disappoint. He was followed by the wonderful Kathleen Edwards, who after only two releases is something of an alt-country star. She sounded fantastic and she looked great, we thought she had a very similar look to our friend Kerry, especially from a distance. Judge for yourself.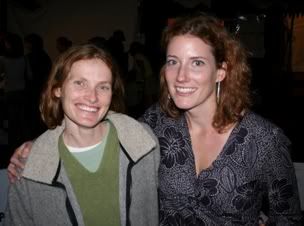 Kerry & Kathleen Edwards
The highlight of the day was the legendary headliner, Kris Kristofferson, no question. He played a wonderful set that spanned the songwriter's deep musical reservoir that goes back almost 70 years and included such classics as "Me and Bobby McGee" and "Sunday Morning Coming Down" as well as many songs from his latest brilliant release, "This Old Road". It was an incredible performance and a great way to cap an almost perfect day of fun and music.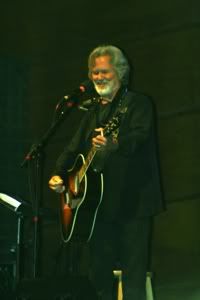 Kris Kristofferson
Elvis Perkins Website
Kathleen Edwards Website
Guy Clarke Website
Kris Kristofferson Website
Issa Website