Estes Park
August 18, 2006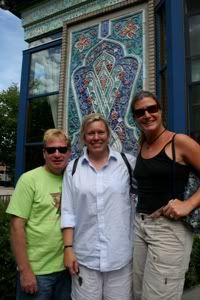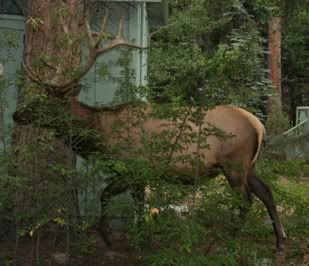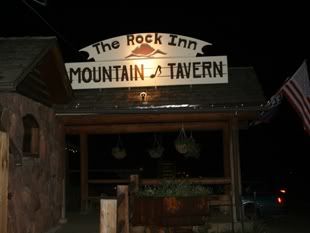 The Rock Inn
Located high in the Rocky Mountains, Estes Park is the gateway community for Rocky Mountain National Park. It is a spectacularly beautiful place and will serve as our base for the next four days as we attend the Folks Fest music festival in nearby Lyons over the weekend.
We drove up with Marika & Brian yesterday but not until we spent the morning giving them a brief tour of the area around Manitou Springs. We started with a drive by of our home there, before heading into the Garden of the Gods Park, where we did some shopping at the old trading post there and then walked around the central gardens area where huge red rock formations jut out of the ground in an incredible display.
Our drive from Manitou to Estes was fairly traffic free and easy; we stopped at the amazing Boulder Dushanbe Teahouse in Boulder for lunch. Built as a gift for Boulder by their sister city of Dushanbe, Tajikistan, the teahouse is an incredible creation that took 3 years and over 40 Tajikistani artisans to create. The ceilings, tables and ceiling are all hand carved and beautiful and the food and huge selection of teas served are fantastic. If you ever find yourself in Boulder, stop and see the place.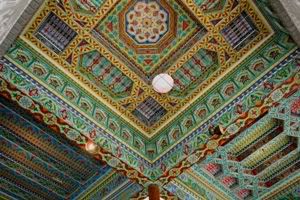 Teahouse
After lunch, we drove the rest of the way into Estes and checked in at our beautiful cabin at Aspen Brook Vacation Homes. Located just outside the entrance to the National Park along the Big Thompson River, the cabin is beautiful and perfect for our needs. It's also conveniently located just up the road from The Rock Inn & Tavern, the wonderful restaurant that our good friends, Bruce & Kerry Darby and their partners opened in May. We headed there for an amazing meal, some of the best food we have had on our trip and not just because it's our friends place. I have had a link to the Rock since the beginning and I include it again below. Check it out for great food and music.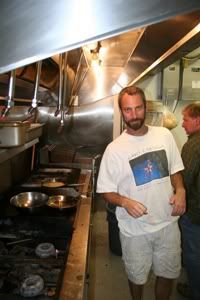 Bruce shows us the kitchen
Rock Inn Interior
The area around here is literally crawling with wildlife. We have seen tons of mule deer and elk, including the huge bull elk pictured below that we noticed munching on a shrub near our cabin. I'm sure we'll encounter more during our stay; it is always exciting to see wildlife to me. Whether it is a prairie dog, a squirrel, a deer or a bear, it always makes me feel good.
Boulder Teahouse Website
Aspen Brook Homes Site
The Rock Inn Website