Rocky Mountain National Park
August 21, 2006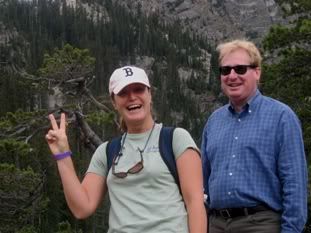 For our final day in Estes Park, we opted to skip part of the day at the Folks Fest in favor of taking Marika & Brian to see a little of the beautiful Rocky Mountain National Park. Neither of them had ever been and so we took a nice drive into the park, stopping at the popular Bear Lake area to take a short hike. Popular is something of an understatement as huge throngs of families and day hikers crowding the trails. It was still great to experience the mountains with Marika & Brian.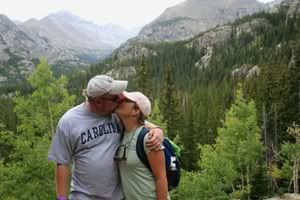 It was something like Disneyland, with people yapping on their cell phones and large crowds, but despite that, it was impossible to detract from the natural beauty of the mountains. We had a nice hike up and around a few mountain lakes before heading back into the town of Estes Park for a little souvenir shopping.
After a day exploring the park & town, Kathy & I headed back to the Folks Fest for the final evening of music. We arrived around 5 PM, just in time to see the final three performers, Blue Rodeo, Martin Sexton & Ani DiFranco. Kerry & Bruce had already established a base camp that was inhabited by many of their family, friends and acquaintances. This included Kerry's parents, her sister T & her husband Chuck and their kids Nathan & Ella and a large collection of fun friends. The vibe at the Folks Fest is one of the main attractions; it is laid back, family friendly and just a real pleasure to experience. They have great food and delicious microbrews from Colorado's New Belgium Brewery. I particularly enjoyed the Fat Tire & Skinny Dip.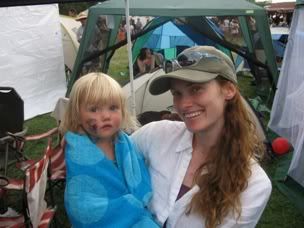 Ella & Kerry
Blue Rodeo has been one of the most popular bands in Canada for more than 20 years, why they have not achieved more success here in the states is beyond me. Winners of 7 of the prestigious JUNO awards, the Canadian Grammy equivalent, they performed an excellent set that was more rock than folk.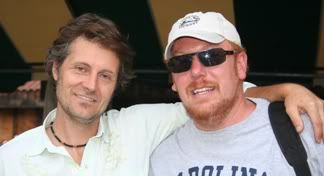 Jim Cuddy of Blue Rodeo & Michael
Next up was Martin Sexton. If you have never seen this man at a live show, do yourself a favor and go. He had the crowd up and dancing for the majority of his impressive set. The crowd on Sunday was much larger than either of the previous days, in large part due to the final act of the evening Ani DiFranco.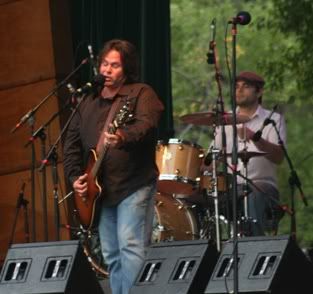 Martin Sexton
Kathy, Red, T & Courtney (& Mike)
One of the most successful, influential and talented independent musical artist in the business, Ani attracts a large cult-like following of fans to her amazing live shows. Her performance was a fantastic way to finish off a great weekend of music.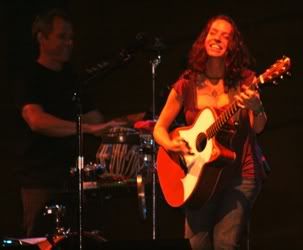 Ani DiFranco
Blue Rodeo Website
Martin Sexton Website
Ani DiFranco Website