Too busy to worry in the daytime…
February 10, 2009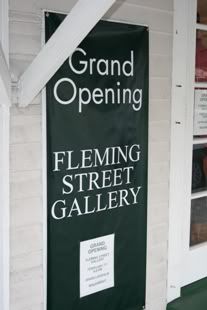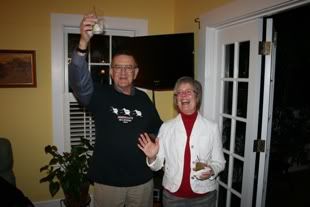 Happy Birthday Cathy!
Too busy to worry in the daytime…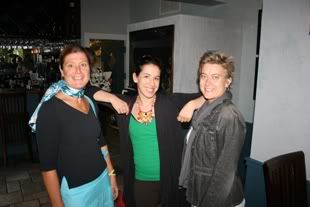 Kathy, Ashley & Jenny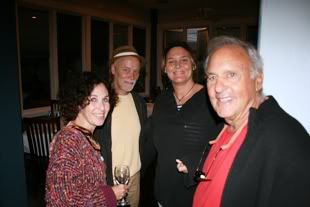 Deborah, Michael, Kim & Sid
…and too tired to worry in the night. This old proverb pretty much describes the state of mind that we seem to be in at the moment. It seems that with the economic crisis that seems to be impacting so many people is swirling around us, we have kept ourselves busy with friends and the many events that Key West has going on during the high season. It is actually pretty easy to find things to do, many of them that really have no cost associated with them that helps ease the current financial situation.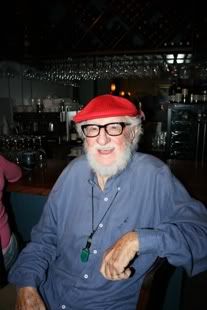 Reese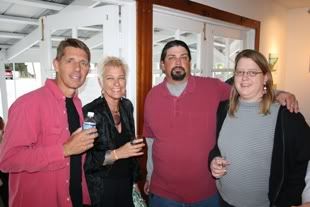 Jeff, Rosi, Mark & Nan
It has seemed to me of late that there is an under-current of anxiousness in the community that seems to be affecting the attitudes of many people. Many of the community boards that I am either on or affiliated with seem to be going through similar, but unrelated periods of chaos and upheaval. Thankfully, with all the wonderful activities that keep us busy, Kathy & I can put aside all the worry and turmoil and stay busy enough not to worry.
Nancy 3 Hoffman
This week started off with yet another birthday celebration, this one was for Cathy Stentzel who joined the medicare community and hosted a wonderful party to mark the occasion. It was a wonderful gathering of friends. Happy Birthday Cathy!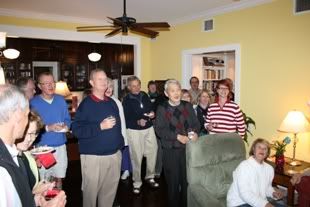 Cathy's party
The rest of the week was dominated by a variety of art openings of the sort that dominate the cultural calendar in Key West during this time of year. The first was the Grand Opening of the Fleming Street Gallery, which is owned by our friend and former Mayor of Key West, Sheila Mullins. Sheila invited another friend and former Key West resident, artist David Laughlin to exhibit for the big opening celebration.
David and his wife Ann Boese have moved to Savannah, but their hearts are obviously still on the island as David's remarkable paintings of the back country demonstrate. It was a fun night.
David, Sheila & Bill
Ann, Sheila & David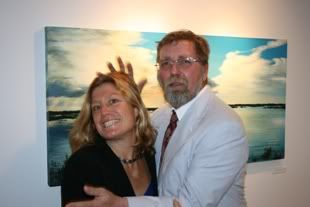 Kathy & David
The next night, we were at yet another art opening, this one for our friend Kim Narenkivicius, who is soon to departing Key West to relocate in Spain. Before beginning her journey, Kim had one final Key West showing of her wonderful artwork at Azur restaurant. It was a massive turnout which is no surprise as Kim is a beloved member of the Key West community. It was a bittersweet evening as we wish Kim well and had a great time at the opening, yet we are sad that we are losing yet another of our favorite Key West people.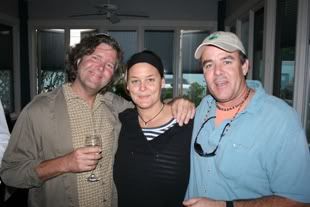 Rick, Kim & Howard
After Kim's opening we headed over to the Studios of Key West for their second Sunday, works in progress event. This month's installment included a reading of new work by our friend Cricket Desmarais as well as a video presentation from our film- making friends who are working not only on a movie based on the Southernmost Bocce league, but a potential TV pilot based on the book, "Quit Your Job and Move to Key West".
Chad, Steve, Mike, David & Chris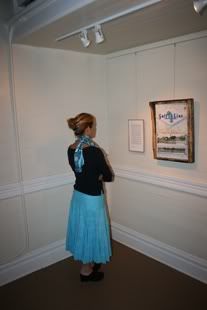 Cricket
Finally, I also managed to squeeze in the final game of the season for the Key West High School Conchs basketball team. Led by 38 points from guard, Keith Valdez, Key West eked out a 4 point victory over rival Marathon to finish out the season.
Keith Valdez
Kim's The Secret of Salt
Quit Your Job Website
Bocce Movie