Gatorland Redux
August 18, 2009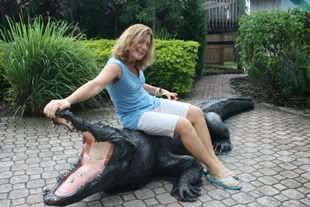 Gatorland Redux
Our last day in the Orlando area, we decided to visit Gatorland. As you may recall, I made my initial visit to Gatorland just last month, but Kathy wasn't with me and I wanted her to experience the wonderment that I felt when I was there. It really is an amazing place, at once a throwback to the old Florida roadside attractions of the past and also a remarkable slice of the natural side of the state that just happens to have shows like the Gatorland Jumparoo and Alligator wrestling.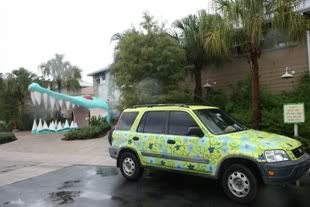 It manages to capture the history and natural experience of the state and our most well-known reptiles in a respectable and interesting way without being too terribly hokey. It is very impressive.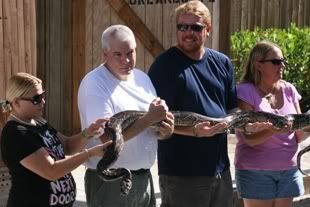 We took in all the shows, the Close-Up Encounters where guests are exposed to tarantulas, snakes, large lizards and gators up close and personal. I was called to volunteer to help hold a python which was fun. The shows focus on the reality of the natural experience of the animals rather than merely hyping how deadly or dangerous they might be, in sharp contrast to the presentations at nearby SeaWorld.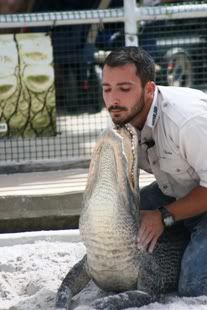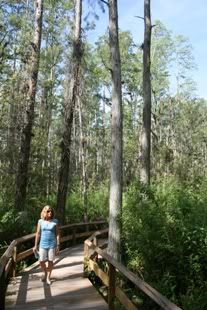 The weather once again cooperated, though there was a brief rainstorm which just happened to hit while we were watching a show under convenient cover that keep us dry.
The park was as full of gators as ever, though many of the nesting birds that were there last month have migrated elsewhere. There was still plenty to see and I think Kathy appreciated the experience, though she does not share my fascination with large reptiles.
The swamp walk was beautiful and serene, but the coolest part was the large selection of white alligators that they have on display. The extremely rare leucistic alligators have mostly white skin and deep blue eyes. Very few are known to exist and they have four on display, some of which were extremely loud and frisky while we were there. If you haven't experienced a full throated alligator bellow, it is really something to hear.