Scituate
July 6, 2009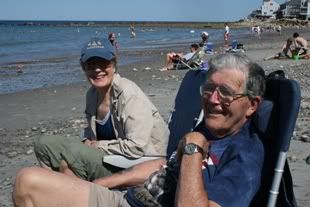 Kathy & Al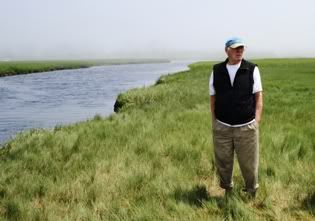 Jim
Scituate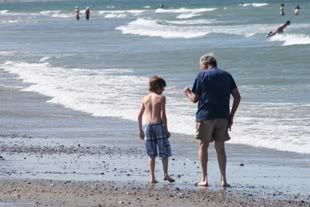 James & Al
For our final day in Marshfield, we were invited to spend the day with Kathy's Aunt Kathy & Uncle Al who live in nearby Scituate. We went over to enjoy a great lunch and then spend yet another perfect day at the beach, this time Scituate beach, which is only a couple of blocks walk from their home.
The weather was once again perfect and the beach was fantastic once again. It seemed as if the weather got more and more wonderful each day that we spent in Massachusetts. Kathy & Al spend time in Key West during the holidays each year, but it is nice to be able to spend some time at their beautiful home. Kathy has a spectacular garden and grows all sorts of amazing things, including her renowned gourds. Al is an expert on beekeeping and there is a link to the website he maintains included among my links to the right.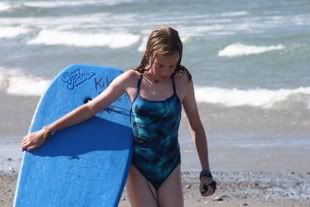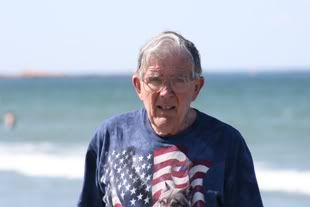 Al
Chris
We spent the afternoon before heading back for our final evening at the Kilroy home. All in all it was a splendid vacation. Many of our trips are so busy and stressful that we come home actually needing another vacation to recover, this wasn't one of those trips. It was relaxing and truly enjoyable and we departed feeling like we could have extended our stay. You always like to leave wanting more.
Bayla
Kathy, Michael & Sophie
I have included in this post some photos taken over the weekend by Kari Kilroy that I hope capture some of the good natured fun that we experienced. Thanks to the entire extended Kilroy family and especially to Jim for hosting us.
Alan & Chris
Julie
We were back at Logan on Monday for the flights home to Key West. It all went smoothly and by the afternoon we were back in the sweltering 90+ degree, 90+ percent humidity of the Florida Keys. After the perfect conditions in Marshfield, it seemed like we were stepping into a steam bath. Our pets were thrilled to see us and our friends Aja, Peter & Katie and Daisy & Cookie took great care of the house, yard and pets. Thanks so much to them all for being such wonderful friends and watching over things while we were gone. I have a sneaky feeling that India actually enjoys the attention she gets when we go away.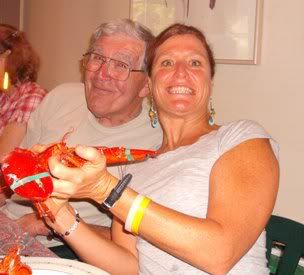 Al & Kathy