Celebrate
July 3, 2009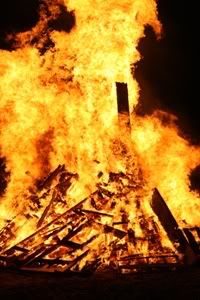 Celebrate
The July 4th celebration is held along the South Shore a day early, on July 3rd. Kathy assures me that this is due to the fact that the word of our nation's independence was actually heard here a day earlier before spreading across the rest of the country. I have no idea if this is the case, but there is no question that the party here is the night of July 3rd and thousands flock to the beach for a fireworks and bonfire party unlike any I have ever witnessed.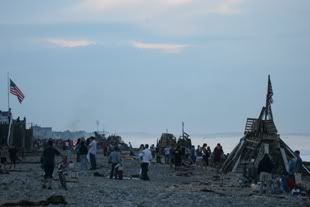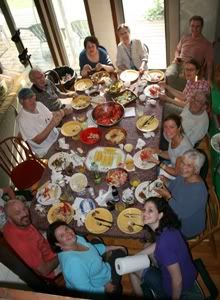 Before that though, we spent the day preparing a huge meal for the entire extended family and friends. Kathy & I had gone on a midnight shopping spree and we had ordered a huge lobster feast from the Brant Rock Seafood Market, which cooked up 16 Maine lobsters and 3 lbs. of shrimp to go with the steak, chicken and variety of salads and veggies that accompanied the feast. While there, we experienced the last passing shower of the weekend, which gave way to perfect beautiful weather for the weekend.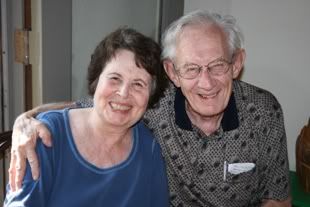 Betty & Phil
Sophie & Bayla
James
The day was spent preparing the meal with another visit to the river thrown in for good measure. The crowd then started to arrive for the meal. In addition to the immediate Kilroy relations, we were joined by our friends Betty & Phil and Carolyn and Kathy's aunt Kathy and uncle Al. It was a huge and festive crowd that joined in for the feast.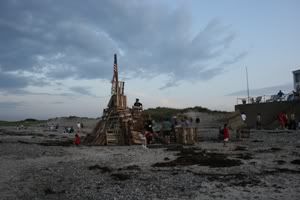 Chris & Bayla
After the meal, we all headed over to the beach in Humarock for the annual fireworks and bonfire extravaganza. For miles along the coast there are literally hundreds of humongous bonfires that line the beach every 20 feet or so. Technically illegal, it seems that the local authorities have basically given up any attempts to quell the massive, seemingly spontaneous celebration.
Just before sunset, lines of people carrying wooden pallets and just about anything else that will burn stream out of the beach houses like a parade of ants to erect massive mountains of flammable materials which are ignited just as the sun goes down. In addition there are countless displays of fireworks that rival any community celebration that I have seen. In fact, it's as if there are a hundred or more fireworks displays, each as big as the display we get in Key West, and they last literally for hours, well past midnight. You really have to experience it to get the full experience as photos really don't do justice to either the huge fires or the fireworks.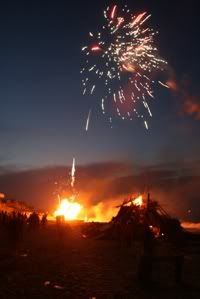 It was a wonderful experience and one that never really gets old. One of those hidden gem, local treasures that can be found in communities across the country.