Marshfield
July 2, 2009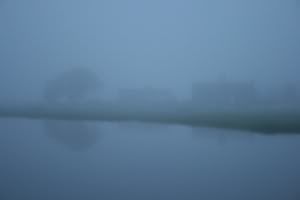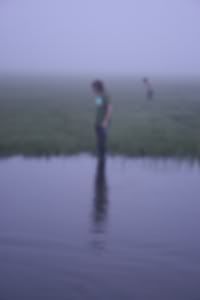 Marshfield
For the big July 4th weekend, Kathy & I were on a plane bound from Key West to Boston to visit Kathy's childhood home in Marshfield, which is on the South Shore about 30 miles or so south of Boston. The entire Kilroy clan was to be in attendance for a big holiday reunion celebration.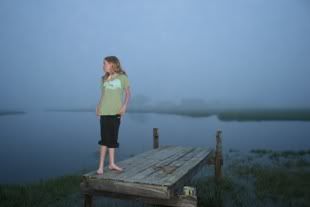 Sophie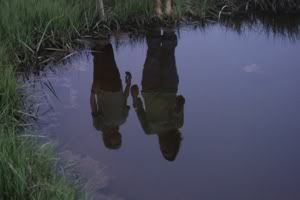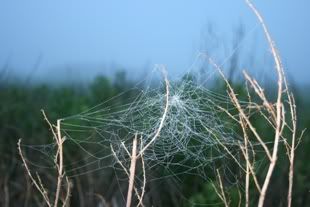 Flying these days has become an exercise in patience, it seems that you are as likely as not to experience delays, cancelations and such when dealing with airlines. This trip was no exception as we had no sooner boarded our connection in Atlanta when we were asked to deplane for a 3 hour delay in our flight into Logan.
Kathy & Sophie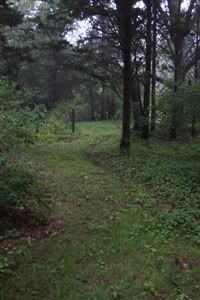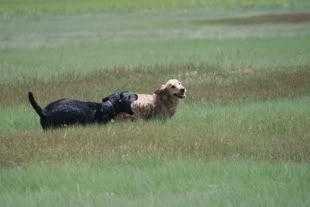 At least this time we actually knew the reason as there was terrible weather blanketing New England with heavy rain and fog. It has been dreadful weather for more than a month throughout the area and we arrived to heavy downpours, thick fog and chilly temperatures in the low 60s.
James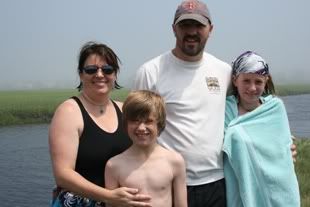 The Kilroys
None of that hampered our arrival into Marshfield and it didn't even stop us from trekking through the marsh down to the river to swim upon arrival at Kathy's father's home, which is in beautiful marsh front location, just across the South River from the beach. The fog made for an eerie setting for a chilly swim in the river, but it did not deter Kathy, her brother Chris or his children Sophie & James from swimming. Chris & Kari and the kids had arrived at Grandpa Jim's (on a delayed flight) the previous day from their home in Manitou Springs, Colorado.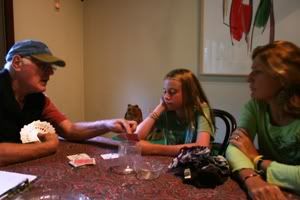 Jim & Sophie
The rain & chill made for the perfect opportunity to build a fire, play cards and just relax around the house between treks to the Marsh to swim. The first day and a half we were here the rain & fog gradually lifted and cleared away, slowly transforming to almost perfect, beautiful summer conditions. Family & friends began to converge on the house to celebrate the big July 3rd celebration at the Kilroy home. Kathy's older sister Julie along with her husband Alan and their daughter Bayla came down from their home in nearby Brookline to complete the immediate Kilroy family reunion and more friends and family were expected as well.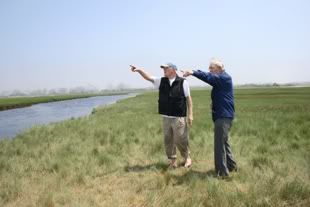 The proximity of the river and the swimming dock make this a perfect location for kids. James and Sophie took great pride in creating boats to sail about the river and Chris & I brought Jim's kayaks down to get in on the fun. Chris even managed to sneak in a few minutes of fishing, landing a 16 inch striper during his short time fishing. All in all it was a wonderful and relaxing start to our family vacation.