Hands Across the Sand
February 17, 2009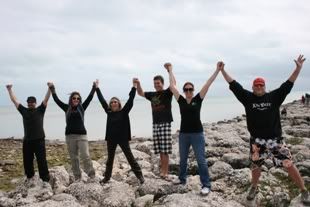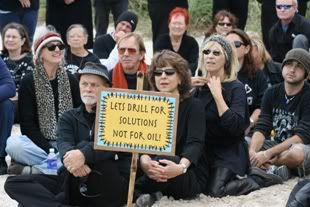 Hands Across the Sand
The week after returning from the Super Bowl was fairly calm and normal, until the weekend rolled around and we were again faced with a plethora of entertainment options back home in Key West. Kathy & I had a full slate of activity planned for the weekend.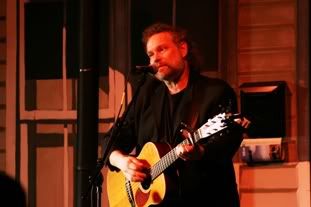 John Gorka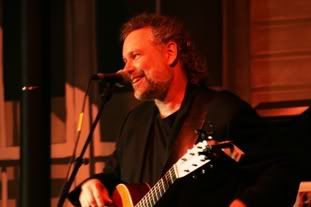 Things got underway Friday evening with yet another in the wonderful Old Town/ New Folk music series concert at the Studios of Key West. This concert featured the wonderful and talented John Gorka. Hailed by Rolling Stone magazine as "the preeminent male singer-songwriter of what is known as the new folk movement", Gorka put on a masterful performance in front of another sold out crowd at the Armory. I had seen him once previously at the Tennessee Williams Fine Arts Center about 15 years ago, but I certainly did not recall him being as funny as he was on this evening. He told wryly funny stories to introduce almost every song played. I include a youtube video example of his style from a show last year in Texas.
John Gorka
Saturday morning Kathy & I were up early to participate in a 5K walk/run to benefit the class of 2010 at Key West High School. We both were walkers and finished in 2nd (Kathy) and 4th (me) place among the walkers. We just figured it was good exercise for a good cause and enjoyed the walk from the high school and out Government Road past the airport and former Hawk missile site and back. It was a bit chilly, but the rain held off and we had a great walk.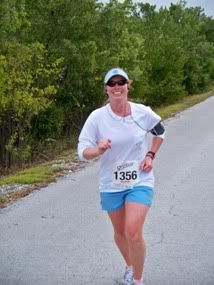 Jen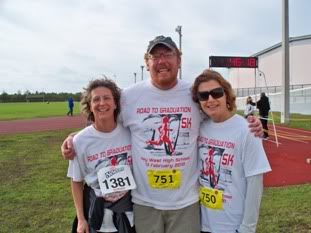 Greta, Michael & Kathy
Next on the agenda was going to see the anti-oil drilling protest, Hands Across the Sand. This statewide protest, involved people gathering along the beaches across the state and holding hands in protest of the proposed opening of the coast for Oil Drilling and exploration. This was Déjà vu all over again as we seem to have to keep revisiting the same issue over and over. It was 20 years ago that we had "Black Friday" in the Keys in opposition of the same issue. This protest was organized locally by a coalition of groups that included groups from FKCC, Reef Relief, Last Stand and Glee.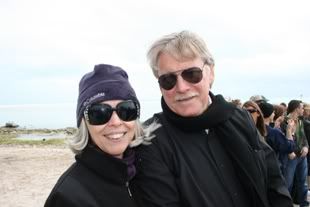 Lucy & Leon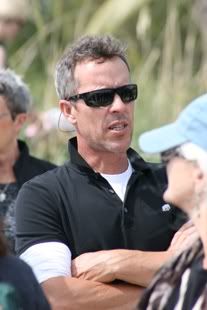 Tom
There were a lot more people who showed up than the organizers expected, estimates were somewhere between 300-500 people at Smathers Beach alone. It sure did seem like old times as many veterans of past environmental campaigns lined up to be photographed from a helicopter spelling out their feelings about oil drilling off the Keys. They were joined by many young people as well, many of whom weren't even alive during the black Friday event.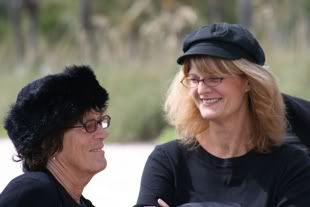 Roz & Jody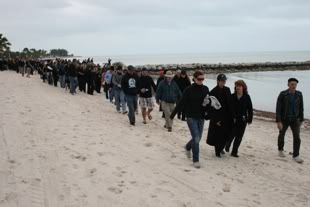 The afternoon found us at Grunt's bar, where we joined our friend Clarence to celebrate his 70th birthday. Ten years ago, he had held his 60th at Grunt's and it reopened just in time to be the setting for this birthday as well. It was another great Key West gathering, one that we sadly didn't get to hang around to enjoy as we had head over to catch the Valentine's Day performance at the Art Bar by the wonderful Key West Burlesque.
Clarence (far left) celebrates
We attended the earlier of two shows, which was billed as "more erotic" than their usual performance. It was indeed, though we heard afterwards that the later show got really racy, even by KW Burlesque standards. The burlesque shows have quickly become one of our favorite things to do in Key West. The performers are talented and seem to improve with each new show. They also happen to include many of the most fun, crazily creative and talented artists in Key West.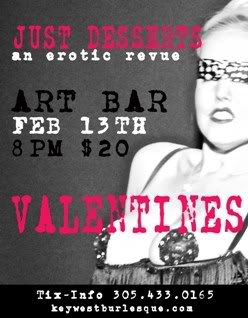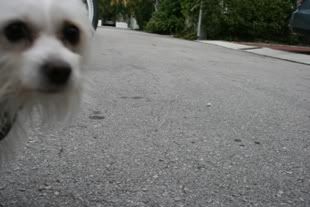 Sunday we attended another birthday party, this one for our friend Ian, who celebrated the ripe old age of 28 with another party at Rowan manor. Originally scheduled for the beach, potentially bad weather moved the party first to the street as we took over Peacon Lane with games like Twister and much imbibing, before the party moved into the back yard, where a fire warmed the crowd. The party lasted most of the afternoon and well into the evening, after Ian himself had to depart and head to work. As they usually are at the Rowan's, the party was a ton of fun.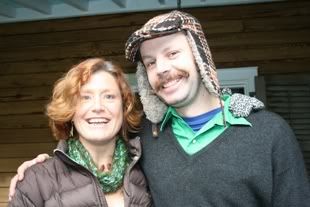 Kathy & Ian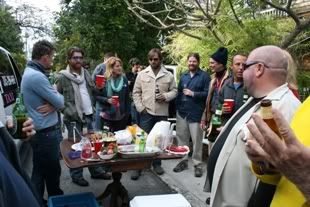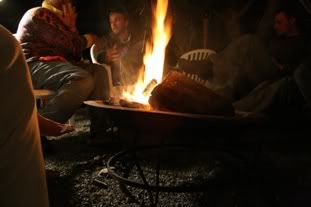 We concluded the weekend by catching the Sunday evening performance of our favorite Miami party band, Suenalo at the Green Parrot. I had just seen them last weekend while at the Super Bowl in Miami, but was able to catch an entire set this time. The parrot was packed once again and the band played into the wee hours of Monday morning, capping off another fun and full Key West weekend.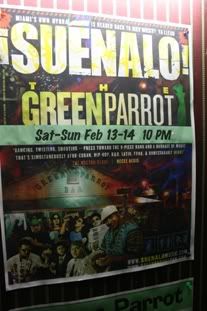 Kim & Kathy
One more thing, The Key West Preschool Co-op is hosting their annual Kids Art Show on February 25th. The show features art by the students (aged 1-5) as well as music, snacks and a wonderful silent auction featuring art from many of Key West's finest artists to benefit the school. Come on out from 5:30-7:00 PM, Wednesday Feb. 25th to 2610 Flagler Avenue and check it out.
Preparing for the art show.
John Gorka website
Hands Across the Sand