Happy 50th Anniversary
February 29, 2008
Harry & Ruth
Happy 50th Anniversary
We recently had the good fortune to be invited to share the 50th anniversary celebration for our friends Ruth & Harry Montague. It was a splendid evening for sailing as we joined Harry & Ruth and many of their family and friends aboard the Schooner Wolf for a sunset sail to commemorate their 50 years of marriage.
The weather and company were perfect as we met the boat at Safe Harbor Marina. It had been some time since either Kathy or I had been on the Wolf. When I first came to Key West one of my favorite things to do was to head out on the Wolf for a sunset or full moon sail. I often joined Captain Finbar and his crew on their once monthly drumming sails which were legendary and being back aboard was great.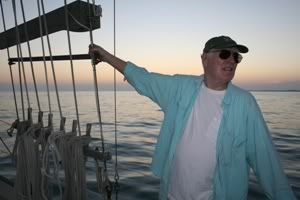 Jim
Harry & Ruth put out a large spread of food and the sail gave us the chance to meet many of their family and friends. Of course, Kathy's father Jim and our friend Nell joined us as well and we had a wonderful time. Harry is well known for being the designer of the famous Montague folding bicycle and I am including a link below so that you might take at look at Harry's bikes.
Nell
Kathy
Ruth & Harry
The week has been pretty low key; otherwise, we did go to the Walk on White gallery stroll. The event has become much more than a mere gallery walk- especially since there are fewer galleries than ever. It has now grown into a monthly community gathering along a street that is for once crowded with locals rather than tourists. We began our stroll at The Studios of Key West where they were having a wonderful art show and a quartet from the Key West Symphony. Next we headed down the street where we could hardly advance 5 feet before running into friends.
The rest of the week has been a busy one for Kathy. It is the busiest time of year at the Key West Preschool Co-op with field trips a plenty happening. Recent trips include visits to Naval Air Station Key West, to a Coast Guard cutter and to the National Marine Sanctuary's Eco-Discovery Center. She has also been busy getting ready for the annual kids art show at the co-op and of course the big Spring Fair fundraiser which is coming up on March 15th.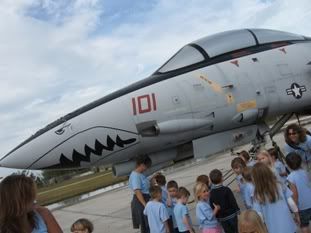 NASKW
Some sad news- our pet chicken, Henry was struck by a car and killed. For anyone who encountered him, he left an indelible impression. He will be missed.
Montague Bicycles