Toga, Toga, Toga
October 26, 2007
Toga, Toga, Toga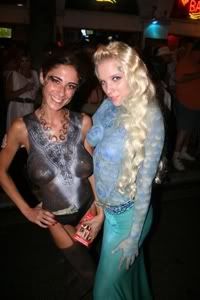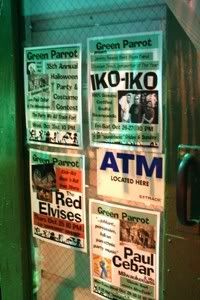 Rain continued to play havoc on Fantasy fest activities yesterday. This has to be the rainiest Fantasy Fest ever with over twelve inches of rain having fallen since Goombay last weekend and more in the forecast today. For the first time in history the huge Pretenders in Paradise costume competition at the Pier House was cancelled. The threat of rain and high winds off the ocean caused organizers to call the event off yesterday afternoon. Turns out, they probably could have gotten the event in as it only lightly misted last evening which was good news for the many Fantasy Fest parties going on downtown.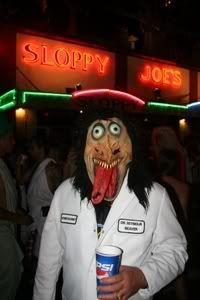 The weather may also be affecting float construction, as efforts yesterday seemed to stagnate a little, I'm sure it will be completed on time, being that the parade is tomorrow we need to get busy. We haven't even started on our parade costumes yet. Of course our own busy Fantasy Fest schedule could be a factor.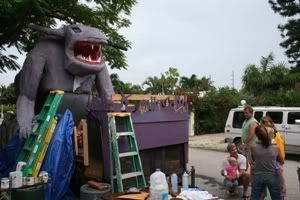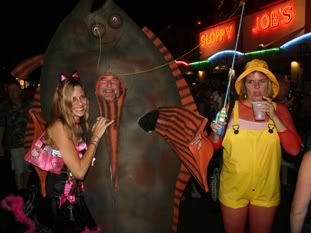 Last night, I ventured down into the heart of the madness. Duval Street was blocked off for most of its length and two huge parties being the draw. At Sloppy Joe's was the traditional annual Toga party and down the street at Mangoes was a more recent Fantasy Fest addition, the Playboy magazine Pajama Party. Both drew huge crowds of people dressed in either togas or some sort of crazy lingerie or pajamas. Since neither venue could actually hold all the people who wanted in, the street itself became as usual, a massive costume party. It's a zany mix of craziness and one never knows what you might witness.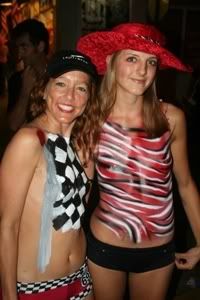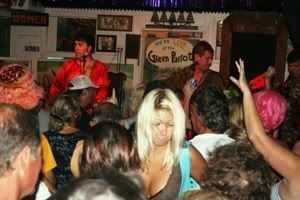 I wasn't really a participant, choosing to walk around checking out the scene and many of our friends who were out and about. After a few laps through the craziness, I headed over to the packed Green Parrot where the party band, The Red Elvises, was playing. There I could hear the music and keep up with the score of the World Series at the same time. After all that we have done this week, Fantasy Fest is really just getting underway with the two biggest events tonight and tomorrow, The Masquerade March and the Parade. We will be participating in both. If you care to watch the craziness live, check out the link below. The parade starts at 7 PM tomorrow (October 27) but there is a street fair most of the weekend that often gets interesting.
http://www.liveduvalstreet.com/