Season
November 26, 2008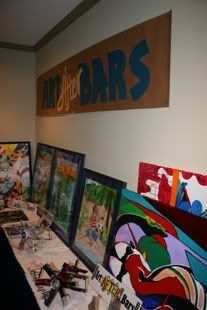 Art Behind Bars
Season
The Art Crawl wasn't the only event that we took in over the past week, in fact the Key West Cultural calendar is starting to fill up as the "season" kicks in. Season is basically the time of year when the snowbirds begin to return and the streets start to get crowded with tourists from chillier Northern climes. Many organizations wait until this time of year to plan events and activities hoping to take advantage of the larger crowds.
Kathy & I try to support as many charities and to attend as many events as possible, though sometimes it is difficult to choose with so much going on. This week, we were out for a number of events that included the monthly Walk on White, the annual plant sale at the Key West Garden Club, the 14th anniversary party for Art Behind Bars and the opening of a new art exhibit at The Studios of Key West, The Armory Show. We also made it out to see our friend Rock Soloman performing at The Wagon Wheel bar.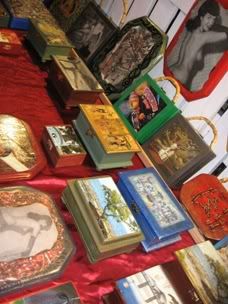 Rock
The Walk on White is held each month, but it really gains in popularity during the season and there was a big crowd checking out the galleries and vendors along White Street. Our friends Carrie Fecca (tiled pottery) and Beth Hodgin (jewelry) had exhibits at the White Street Deli and The Studios of Key West respectively.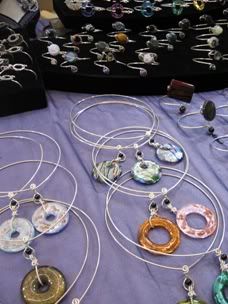 Beth's Jewelry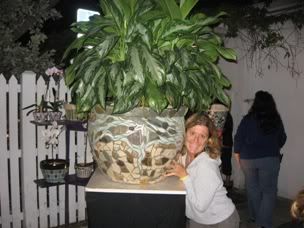 Kathy with a Carrie Fecca pot.
We had been to the plant sale to take photos on Saturday, but we returned on Sunday to actually shop for plants. The plant sale was awesome as there were thousands of beautiful orchids and other plants available as well as delicious food and crafts vendors.
Rosi & the MARC house crew
Sunday evening we made it to two events, the Art Behind Bars party at the Pier House , where Art Behind Bars celebrated their 14th birthday with an exhibit of art created by prisoners. After that we headed over to The Studios of Key West for the opening of an exhibit and presentation on the history of the Armory building that is home to the Studios. Library Historian Tom Hambright presented a wonderful slide show on the history of the building and the neighborhood
Lynn Vantriglia of Art Behind Bars
Tom Hambright presentation
Art Behind Bars